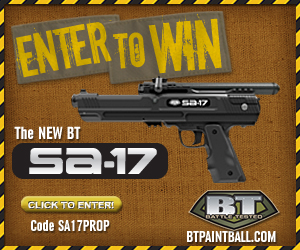 Update: Contest has ended, thank you for entering.
We are proud to announce that BT Paintball, a division of KEE Action Sports, has joined on as a proud sponsor of PROPaintball.com! Please be sure to support BT and our other amazing sponsors when you purchase your paintball gear.
BT Paintball just launched a contest in which they are giving away two of their cool BT SA-17 paintball pistol's and a few sets of head to toe paintball gear!
Head on over to BTPaintball.com's contest page and enter to win. In entering your details, make sure to select the PRO Paintball contest code SA17PROP and show your support for PRO Paintball and BT Paintball!
We highly encourage you enter and wish you the best of luck!