Over the past two days at the PSP World Cup we got a chance to get up close and personal with a few of the brand new GI Milsim .50 cal markers. Richmond Italia invited Pro Paintball dot Com inside for the first up close official photos of the guns being released for sale.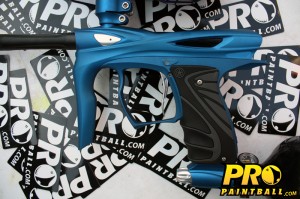 ProPB's very own Brandon Mason had a chance to shoot the new paintball gun yesterday. Brandon raved about how accurate the marker shot, had no kick and that the marker reminded him of his Smart Parts Luxe. Rumors around the event indicate that one of the top pro paintball teams will be shooing it next season. Any thoughts on who?
Read on for a full list of the "Nano" Specifications!
Specifications:
The GI NANO50 is the smallest and lightest tournament marker available. The NANO50 is a spool valve marker with unsurpassed firing rate and accuracy, while both quiet and soft on paint. Hoseless grip integrated streamlined design helps shave ounces off the weight.

-All metal construction
-No External Hose Design – the regulator is built into the Grip Frame
-Wired eyes with screw mount covers for easy assembly

Colors: Black, Olive, Red

Caliber: .50cal
Joules: 5.1
Length: 8.4″
Weight: 1.64 lbs
Operating System: Multi Mode / Elctropneumatic Spool Valve
Operating System: 140-160 psi
Anti Chop system: Barrel Break Vision Eyes
Max rate of fire: 30+ BPS
Control Functions: programmable Chameleon L.E.D.

Air Consumption: the Nano50 shoots 1540 shots vs. Standard .68 425 shots