Paintball fashion is evolving once again. HK Army is proud to announce the addition of new custom paintball jerseys and design services to upgrade your swag on the field. The HK Army custom paintball jerseys are available with or without the famous HK logo.
Each custom paintball jersey is manufactured in-house and includes the following: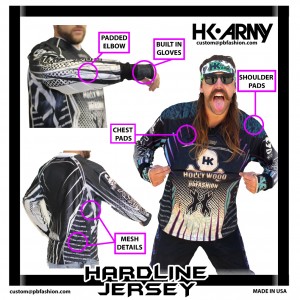 Padded chest
Padded shoulder pads
Multiple areas of mesh ventilation
Padded gloves built in
Contour Piping
Full Customization – Collar to Cuffs
Design Assistance Available
Made in USA – Los Angeles, CA
What is HK Army?
The Hostile Kids started out as a paintball team made of young paintball players from the Southern California area. Some of the kids went to school together, and others were friends from the field. At the end of the day it didn't matter where someone grew up as long as they enjoyed playing tournaments with one another. As the group of friends grew in both age and numbers, eventually they began creating limited edition "army only" merchandise to wear on the field. HK Army members Steve Quan and Brandon Fort began sewing headbands and silk screening tee shirts to help represent themselves. As the teams popularity spread, so did the demand for gear. Eventually HK founded their own company to supply the goods and thus PBFashion was born. PBFashion, or Paintball Fashion, is the official supplier of all HK Army branded merchandise. For more information, be sure to check visit HKArmy.com or PBFashion.com.
If you enjoyed learning about pro paintball and new paintball gear, Like ProPaintball on Facebook!