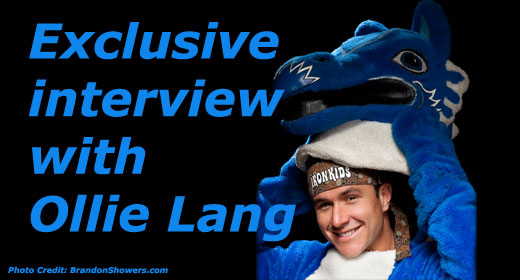 In 2006, Ollie Lang (website) announced a sudden departure from his friends on San Diego Dynasty. Ollie had inked a deal with the Los Angeles Ironmen that set the record for the highest salary paid to a professional player. Since then, Dynasty fans and players have dreamt of the day that Ollie and fellow Dynasty players Yosh Rau, Alex Fraige and Ryan Greenspan would re-unite and return to the top. Just last week, Ollie Lang set headlines across the world when ProPaintball announced that Lang had returned to San Diego Dynasty. Today we present to you an exclusive interview with one of paintball's most celebrated players and insight on the race back to the top with his friends on San Diego Dynasty.
1)  Oliver — tell us about your move back to Dynasty. Was it an easy decision?
Ollie Lang: It was not an easy decision at all and probably an even harder decision than my departure in 2006. When I left in '06, it all happened within one week. I have been stressing over this decision since October. I never really let things weigh me down but I was in a funk for the past few months debating over my options. I really wanted to follow my heart but I love both of these teams, so it was a major mental and internal debate.
2)  How do you feel about this being a "New" Dynasty?  No Brian Cole, Johnny Perchak, Angel Fragoza, or Todd Martinez?  Do you think the new players can/have filled their places?
Ollie Lang: I'm not going to lie, I am very excited about these new kids on the team.  Our old core was unique but there were a lot of hot heads and opinions back in the day. It wasn't easy when we were our own coach and had to choose who to play and who to sit. Back then we were young and lucky, now we have to work even harder and these new kids are ready to do that as the face of dynasty changes.
It's about gearing up for the future and I'm more than excited to be a part of the team with these new kids who want to listen and learn from the world's best players.
3)  On Ironmen you were not only the captain, but the leader.  Dynasty has had Fraige and Greenspan holding the reigns for the past 4 seasons.  What is your attitude going into the 2011 season in regards to your role on dynasty?  Will you share the leadership and key decisions with Fraige and Greenspan, again?
Ollie Lang: This team has and always will be a democracy. It's an even scale of paintball brilliance across the board. We fight and argue but at the end we have the best answers and results. We are all equals and we will work together to become the best team to ever play the game again.
4)  At the height of Dynasty's "reign,"  there were moments of complacency amongst members of the team, guys that felt there wasn't enough of a challenge when all of you were together.  Is the rise of Dynasty back to the top your new challenge?
Ollie Lang: The challenge is to come back and do it all over again! We want to triple stamp the double stamp Dynasty as the best team in the world hands down bar none! Dynasty wants to enlighten new kids with skills and proper professionalism that will propel the longevity of our sport.
5)  Will your move back to Dynasty affect your relationship with Dave Youngblood or those with your friends on the Ironmen?
Ollie Lang: The Ironmen were my friends but not more than teammate friends. When I lost nicky I had no one else that was my age and a close companion or friend. That's important to have. I cherished all of my relationships with teammates; Brandon Short, Mike Paxson, and Mikko Huttunen were some of my closest friends but nothing compared to Alex Fraige, Ryan Greenspan or Yosh Rau who I have 15 years of history with.
Dave Youngblood was one of my best friends and I considered him my brother. I could speak for hours upon hours to Dave about everything and anything which is a special thing that I only have with a few people. Dave and DYE were really the only things that would have kept me on the Ironmen. I believe in him and his brand more than anything and I will miss all the time spent with him. We will still continue our friendship but my transfer will hinder all the time we used to spend together, which is what builds friendships.
6)  What will happen to your position at DYE? Will you continue to travel abroad; representing your sponsors and speaking at seminars?
Ollie Lang: Unfortunately it will be terminated. Hopefully one day I can again work with Dave and DYE Precision.
7)  You have had the opportunity to travel the world through paintball. What is your most favorable travel memory, non-paintball field related?
Ollie Lang: That question is impossible to answer, because it is not yet over. In fact, it is just getting started. Any moment spent with great people is what my favorite memories consist of and I have shared many with incredible people over the years.
8)  You started a paintball team with your friends Ryan Greenspan, Alex Fraige, and Yosh Rau, have won several world championships, and are now returning to play with your friends and build another championship team. With that in mind, what advice can you share to young players and their teams?
Ollie Lang: Really we started playing paintball because it was fun.  The illusion of fame and money corrupted a lot of younger players after my generation. People changed and acted differently. They tarnished the sport, their teams, and themselves.
Be yourself. Be the best you can be.  Be a role model for the sport.  Build the sport.  Reflect positively on others as you grow in this sport.
Paintball is filled with great people in every corner of the world, but there is a lot of greed out there and selfishness.  I try not to follow that road. Nobody likes arrogance or shitty punk attitudes.  Play paintball because you love it, not for what your get out of it.  Greed and arrogance should not be the driving force behind any decision.
9)  Will 2011 be the year of the dragon?
Ollie Lang: Will it?  Well then it only makes sense.  I did notice the paintball gods have been very happy with this transition.  I expect clear sky's at 90% of the events, great attendance, and the highest level of play that the paintball world has seen to date.
ProPaintball would like to thank Ollie Lang (website) and photographer Brandon Showers (website) for making this interview possible. Thanks guys!