When you get serious about paintball, you learn pretty quickly that serious playing means getting deep into decking out your gear and getting paintball vests or kits as some call them. Not only that, but you notice that the best paintball players often have different vests for the job. It isn't necessarily about how much you're spending, but it's about finding the right high-quality gear for you to get good at what you're doing.
Not only will good gear help you perform in games and tournaments, but it will help you look cool and refine your style– also, it keeps you safe. When it comes to gear, people immediately think of masks and guns, and gloves… But what about vests? Great players have great tactical vests, and this article is about helping you find the right tactical vest for you.
Not only will these vests keep your chest and back safe, but they will also make you a better tactical paintball player, through and through, as they provide a means for you to stay safe and protect yourself from pain. Below you will find our recommendation for the best tactical vests we have tested for paintball.
What is the best tactical vest for paintball?
Before we dive in, let's think about this… What would make any given vest the BEST tactical vest for paintball?
You want it to be fully adjustable, you want it to be comfortable, you want it to be protective, you want mag pouches, and you want it to look good. With all of this in mind, we devised a list of the best options for paintball vests you'll find anywhere.
1. GZ Tactical Paintball Vest
According to most players we've talked to, this is the best tactical vest a paintball player can purchase. What makes this the case? Well, it's pretty easy. First of all, it's made of extremely tough, durable, and high-quality polyester– because of this, not only is it super comfortable, but this helps it maintain its protective quality as well while remaining undoubtedly breathable.
Lots of people love this vest because it is pretty customizable, as well– beyond this, though, it is wickedly adjustable. There are tons of pockets as well, including a back mesh pocket with a velcro closure that can hold 2.5 liters of water to keep you hydrated, two internal zippered map pockets for holding onto essential papers, four rifle mag pouches that have room for up to 30 round magazines, and three pouches for objects like pistol mags and flashlights. Pretty awesome, right? This vest is supremely adjustable in both girth and length, and also you can tell the designers prioritized comfort and utility at every step of the process.
We couldn't help but notice how breathable this vest is, as well. Many vests are marketed as breathable but add a lot of heat when you're getting into the battle– not this one. The price provides awesome value for your dollar, and the quality is about as good as it gets! This helps you with hydration, provides a seemingly endless amount of pouch room for ammo and other things you might want to carry, can be adjusted to a vast size variety, has comfortable and practical padding that is easy to change, and so much more.
It is also worth noting that if you would instead be using the vest without all the pockets, many are removable– however, we think the storage is pretty handy, as they do not restrict movement. Everything remains accessible, and carrying the extra features the vest offers does not in any way detract from protection.
2. Tactical Airsoft Vest Adjustable Modular Paintball Vest
Tactical Airsoft Vest Adjustable Modular Paintball Vest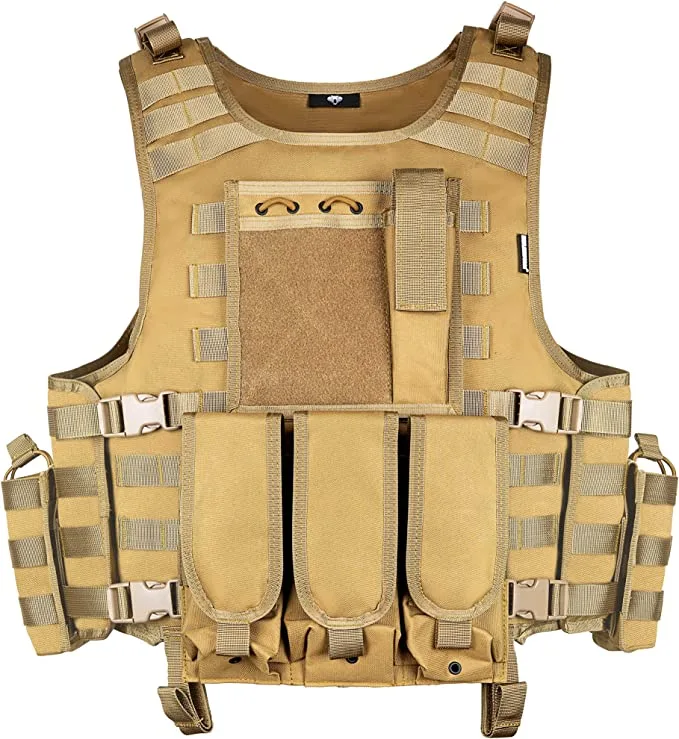 Customizable
Durable Construction
Diverse Color Selection
What's good with this product?
Well, the torso is conveniently adjustable, has tons of pockets, is definitely light in terms of weight, has no flashy color or design, and is simple to use. It is made from a mesh and nylon material that keeps it breathable and can be used for other activities such as airsoft and any other similar game you may want to play due to its lightweight nature. The multiple pockets make it hassle-free and convenient, designed for the beginner or the experienced player.
If you want something resilient, versatile, flexible, and easily removable, this is probably the best vest the market has to offer. It lacks any foam support and is not padded on the back, but those are things you may not necessarily need– if you want that kind of additional protection, however, just look around the web because there are tons of other products for you to choose from.
3. ESA Supplies Tactical Molle Paintball Vest
Lots of players are looking specifically for molle (pronounced 'molly') vests, of which this is an excellent example.
Molle vests are designed and engineered for tough usage– they are hardy, strong, and resilient. They're Modular, Lightweight Load-Carrying vests, and they are extremely popular, with webbing, pockets, and tons of room for additional pouches. This one has comfortable, protective inner foam padding and tons of space for accessories, and the mesh the paintball vest is made from is highly breathable.
Not only this, but it is very adjustable when it comes to both length and girth. It is comfortable, durable, and full of potential for carrying tons of stuff to make your game as exciting as it can be.
Concluding Notes on the Best Paintball Vests
There are so many good vests on the market. These three are some of the best we have stumbled upon as paintball enthusiasts.
If there are any awesome tactical paintball vest options that we might have missed, just let us know!