Paintball pods, also referred to as tubes or pods, are essential equipment that store your paintballs during a game. Constructed from durable plastic, most paintball pods feature a spring-loaded lid for easy access and loading during gameplay. Investing in the best paintball pods will improve your performance, as the right gear can make all the difference.
With numerous paintball pods available in the market, choosing the right one can be challenging. To simplify your decision, we have evaluated the top paintball pods in the industry and included a buying guide to assist you in your search.
1. Maddog 150 Round Bones Paintball Pods
Maddog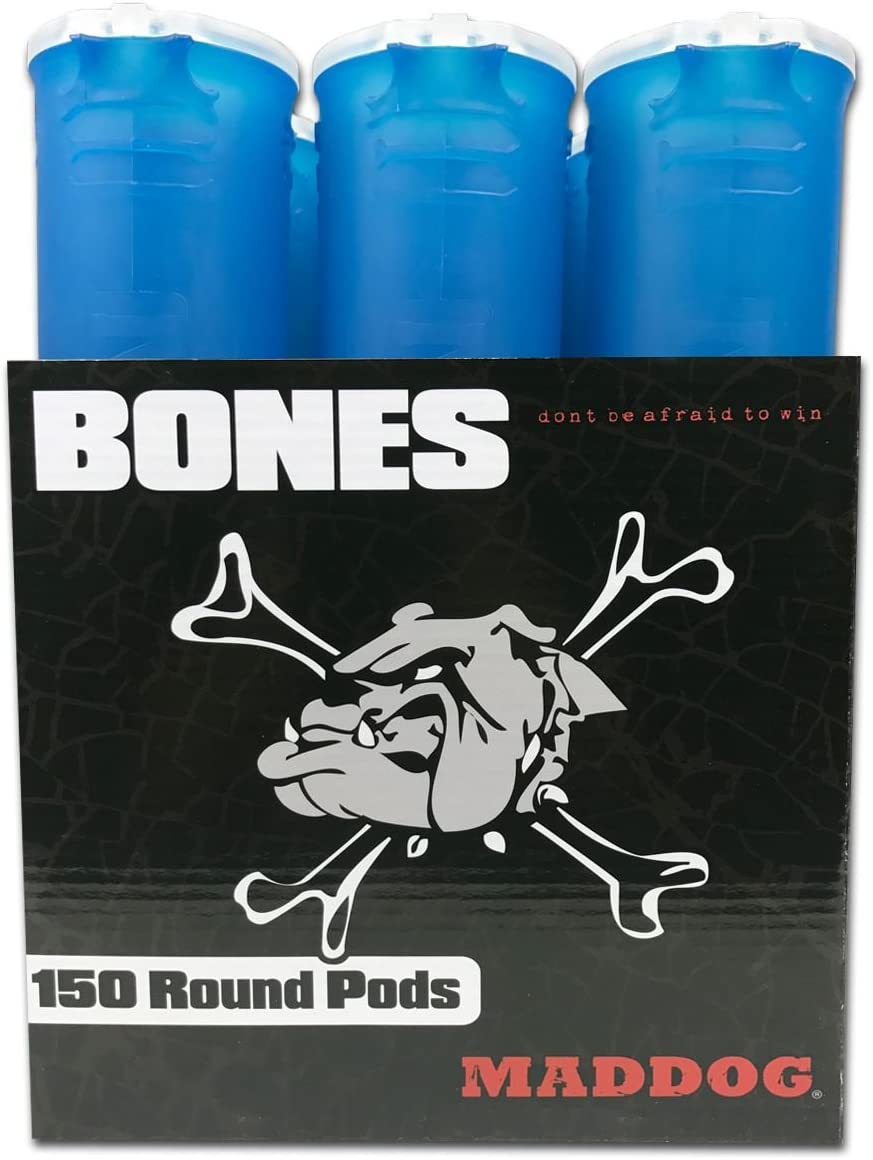 150 Round Bones Pods
Ergonomic design
Spring-loaded lid.
High-quality composition
Raised grip.
Maddog paintball pods are highly regarded for their premium package, which includes six pods with a 150-capacity each. Although relatively new to the market, they have quickly become popular due to their durable polypropylene construction. The standout features of these top-tier paintball pods are the indented thumb tab and raised bones grip.
Maddog paintballs have a unique design that allows players to load their hopper without looking, facilitating quicker reloads compared to other paintball pods. These pods can withstand harsh conditions, ensuring optimal performance in a paintball game. Additionally, their spring-loaded lids prevent accidental opening and fit well in standard paintball harnesses.
Pros
Ergonomic design
Spring-loaded lid.
High-quality composition
Raised grip.
Affordable price
Cons
Quality and control issues
2. Dye Alpha 150 Round Paintball Pods
Dye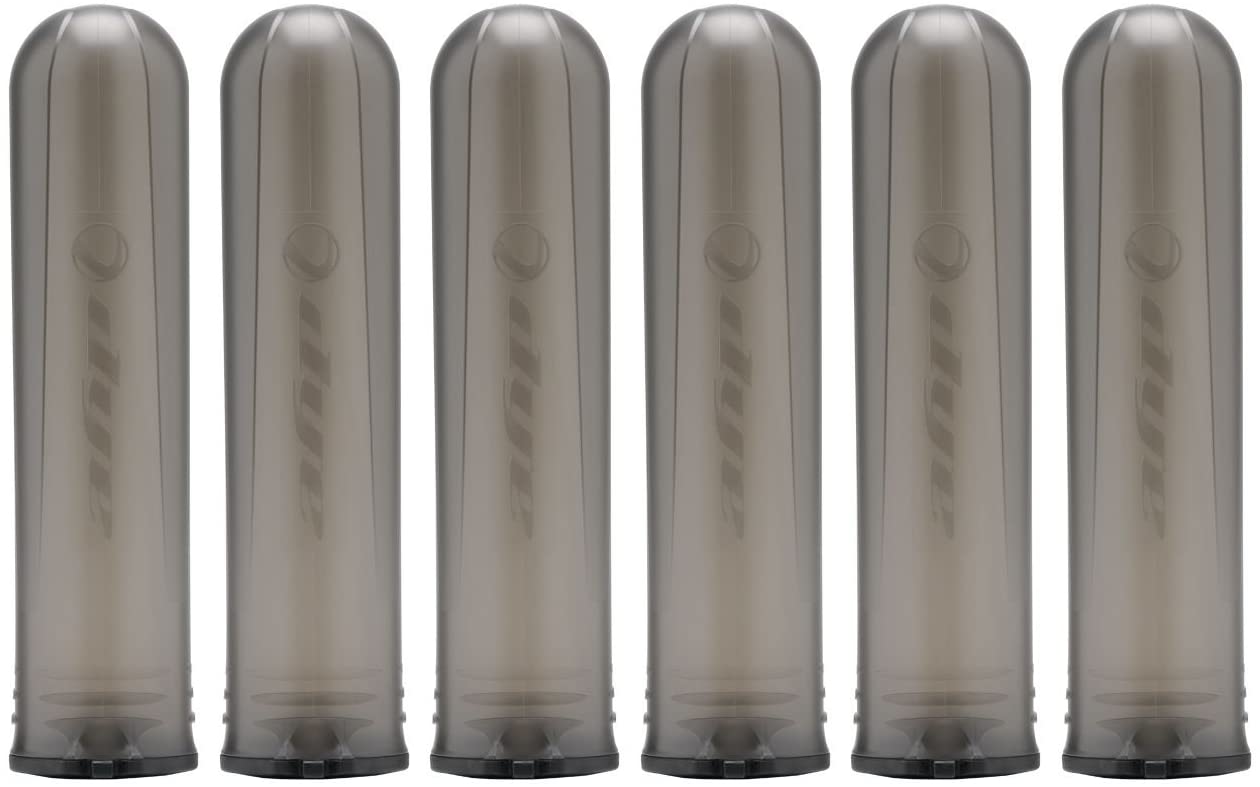 Alpha 150 Round Pods
Available in various colors
Attractive finish.
Dye lock lid
Great grip
The Dye Alpha brand is known for its highly durable paintball pods made from top-quality polypropylene material. Each pod can accommodate up to 150 paintballs when arranged correctly.
However, these pods do not include collars, necessitating the purchase of an adapter piece to keep the lid closed securely. With the additional adapters, the paintballs remain in place, ensuring a tight snap lid that is not present in other paintball pods.
The Dye Alpha paintball pods feature a thumb tab with a small raised lip for opening the lock lids. They have a minimalistic feel while holding 150 paintballs, transforming the way you carry ammunition on the field without losing any. These high-capacity pods are available in various colors, including Baby Blue, Olive Lime, and Smokey Red.
Pros
Available in various colors
Attractive finish.
Dye lock lid
Quality craftsmanship
Great grip
Cons
No collar
Needs a separate adapter
3. Virtue Press Flick Locking Lid
Virtue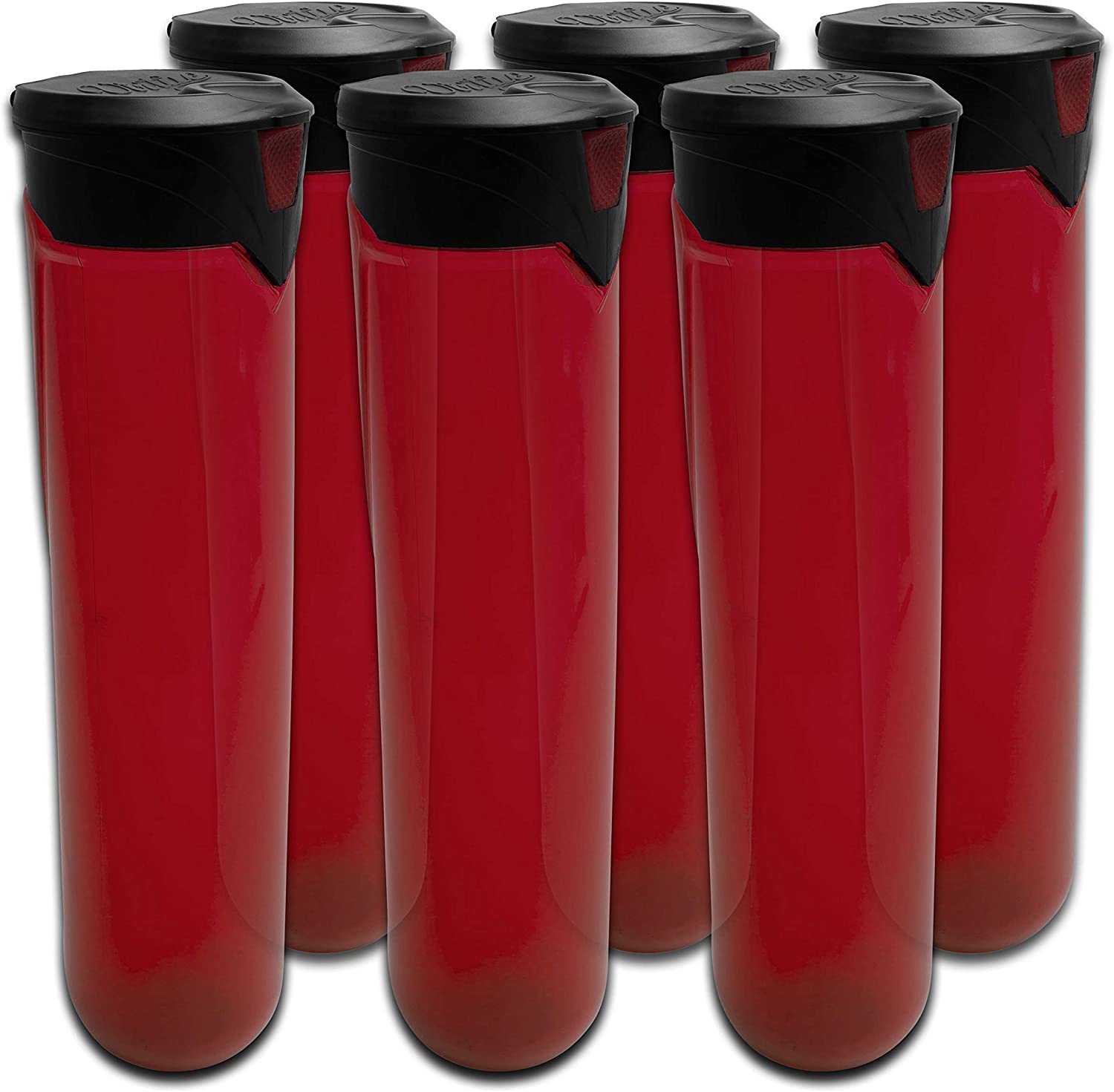 Press Flick Locking Lid
Increased paint capacity
Lightweight
Minimizes spillage
Intuitive lock lid design
Very durable
Virtue locking lid paintball pods are an excellent choice for those looking to reduce weight and maximize efficiency on the battlefield. Measuring two inches smaller than other paintball pods, these pods feature an intuitive press flick mechanism for unlocking and quickly reloading during gameplay. The locking lid design minimizes paint spillage, a common issue with many paintball pods.
Virtue pods are available in two sizes, with storage capacities of 135 and 165 pods. Despite their high capacity, they are still smaller than most high-capacity paintball pods. Furthermore, the Virtue brand offers multiple color options, including Red, Black, Clear, and Green.
These pods are exceptionally durable due to their robust materials, making them suitable for long-term use, even in harsh environments.
Pros
Available in a variety of colors
Increased paint capacity
Lightweight
Minimizes spillage
Intuitive lock lid design
Very durable
4. Tippmann Paintball Heavy Duty 140 Round Guppy Pods
Tippmann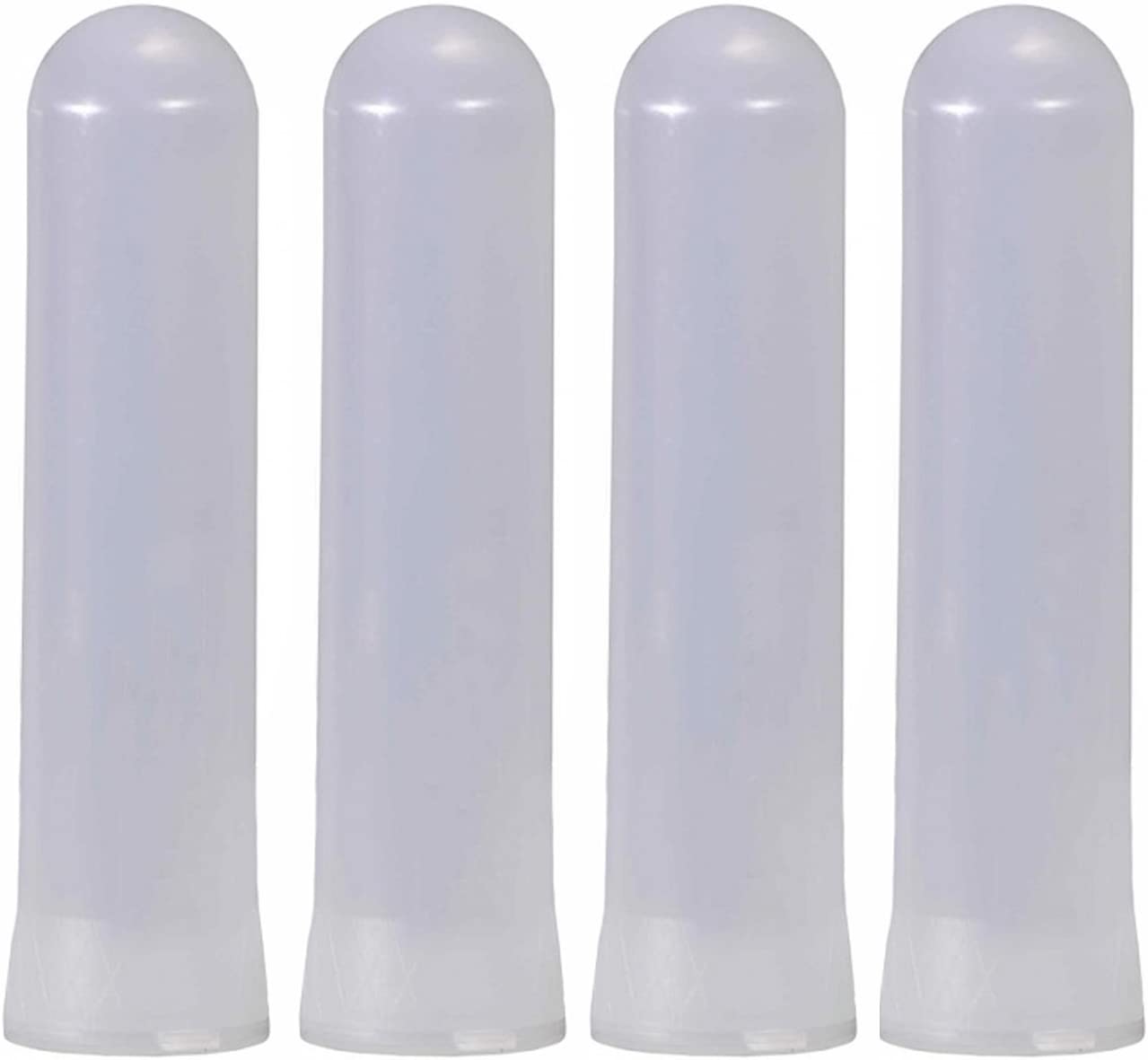 Heavy Duty 140 Round Guppy Pods
Budget-friendly
Lightweight but heavy duty
Fits standard harnesses
The Tippmann round paintball pods are the latest addition to the Tippmann brand and a great option for players. These convenient pods have a carrying capacity of 140 paintballs and feature a secure flip-top lid that keeps the contents in place during movement or reloading. The lightweight pods are available in a transparent color and are built to withstand rigorous play.
The Tippmann paintball pods have a secure snap lid, but the lid can be challenging to open and close. These pods can be easily opened and quickly closed, remaining secure when tightly closed. Each pack includes four individual tubes made of good-quality plastic material but should be handled with care to prevent breakage, as they are not as durable as some other options.
Pros
Easy to load
140 paintball capacity
Budget-friendly
Lightweight but heavy duty
Fits standard harnesses
Cons
Average build materials
Available in one color
5. HK Army HSTL Paintball Pods
HK Army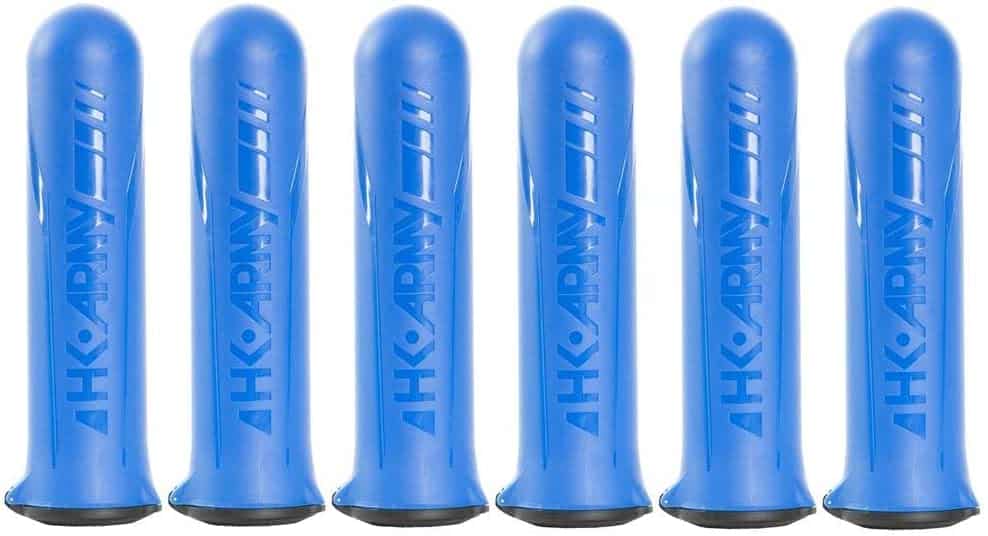 HSTL Paintball Pods
F

it standard harnesses

Spring-loaded flip-top lid
Enlarged thumb groove
Available in vibrant colors
The HK Army HSTL Paintball Pods are a six-pack with a 150-round capacity each, offering excellent value for money while being reliable and easy to use. These pods boast an innovative design, and their advanced lid design makes them competitive. The HK Army flip lids use a spring-loading mechanism for quick opening or loading, making them highly effective during gameplay.
Additionally, the lids feature an enlarged thumb groove contour that allows you to quickly grab your pods while keeping an eye on your opponents. This unique feature sets these pods apart from other paintball pods. HK Army pods are available in various vibrant colors and fit well in most harnesses. However, they do not include a secure latch system, which could be a valuable addition.
Pros
F

it standard harnesses

Spring-loaded flip-top lid
Enlarged thumb groove
Available in vibrant colors
What to Consider when Purchasing the Best Paintball Pods
Ammo Capacity
Carrying capacity is crucial when buying paintball pods, whether you are a beginner or a seasoned player. To win a game, it's necessary to have a large stock of ammunition to prevent running out of paintballs in the middle of the match. Ensure you have enough rounds within easy reach to remain competitive.
Most paintball pods hold approximately 140 paintballs, sufficient for an average game or beginner. However, experienced players often opt for pods with higher capacities, allowing them to fire for longer durations. High-capacity pods typically range between 160 and 200 paintballs. Lower-capacity pods are designed for paintball weapons with small sidearms, such as pistols.
Easy Access to Ammo
Speed is a crucial factor that can determine victory or defeat in a paintball game. To excel, you must be an efficient player, which means quickly loading your hopper. Choose a paintball pod with an easy-open, high-quality, and user-friendly lid design.
This feature allows you to easily open the pod and reload your marker during the game. However, avoid paintball pods that open too quickly, as this can lead to lost ammunition and negatively impact your performance. Ensure you verify the lid's reliability and quality before deciding on a paintball pod.
Durability/ Robustness
Durability is another critical aspect to consider when purchasing the best paintball pods. Given the nature of paintball games, your paintball pod should be sturdy enough to withstand impacts and scrapes. Most paintball pods are made of plastic, which can easily break if not handled carefully or properly secured on harnesses or ammunition belts.
The best paintball pods are constructed from high-quality plastics, making them more durable but relatively expensive. Despite the cost, they are the preferred choice, as they can better withstand the rigors of gameplay. If performance is your priority, investing in more expensive paintball pods made from durable materials is advisable, as they hold up better for physical activities.
Affordability/ Price
Paintball pods are among the most easily lost or broken pieces of paintball gear, but they are also the least expensive. If you're on a budget, you can opt for cheaper paintball pods, but be aware that they may break more easily.
Frequently Asked Questions
Why is it essential for a paintball player to use a paintball pod?
Paintball pods help keep your marker loaded with paint when firing against opponents in the field. It's crucial to invest in high-quality paintball pods, as they ensure you have a consistent supply of paint, keeping you in the game and increasing your chances of winning.
How do you fill the best paintball pods?
To fill your pod from a bag of paint, insert the pod into the paint bag and wrap the bag around the pod's mouth. This method ensures you don't spill any paint when filling your pod. Make sure there is no empty space in the pod that could cause it to rattle and give away your position on the field.
Fill the paintballs to the top and lightly shake the pod while the cap is locked down. Continue to add paintballs until the rattling stops. Always ensure your pod is clean before adding paintballs to avoid damaging the paint.
How do you put on a paintball pod pack and harness?
The best paintball pods should be positioned to fall out of the bottom of the pod pack. This means that the strap should point towards your legs, and you should wear the load on your hips. Wearing the harness higher than this may cause difficulty breathing.