When you are looking for the best paintball gun on the market, you can't enjoy just any paintball marker. There are some high quality options on the market, some that are perfect for an entry level player or a beginner, intermediate options, and then there are also many that just don't make the grade. Whether you're looking through electronic markers (electronic paintball guns are all the rage right now), mechanical markers, or even pump system paintball markers. 2020 brings more options than ever before for paintball players. So what do we look at?
What are the different types of paintball marker?
As paintball marker experts, we get pretty specific. When we take a look at the inner workings of an electronic or mechanical gun– the barrel, spool valve, feed system, circuit board, HPA tank, bolt system, the various firing modes, balls per second, shots per second, and everything that goes into taking the shot once you pull the trigger. We'll take a look at new brands, classics, and all the best rated paintball markers on amazon to help you find one of the best paintball markers on the market. It's not always easy to know what gun is going to be best for you, and that's why we're here to help.
Paintballers play in all sorts of different environments and scenarios. Some only get to play once every few months, while some have it as part of their weekly routine. Some players want to try the new make or modern model while others want to work on modifying and adding accessories to a simpler, classic-style gun which resembles those from years past. Whether you're playing in tournaments, in nature, arcade-style, or anything else, there is going to be a good gun for you. Some want something easy to use while other want something which is, by all accounts, complex and confounding.
So, here are the best paintball markers on the market.
1. HK Luxe X

If money is no object then the DLX Luxe X is the best possible paintball marker money can buy. Ultralight weight, tournament ready, super efficient, and has a talking circuit board. Yes, the Luxe X literally tells you what percentage battery life, rate of fire, and condition the paintball marker is in when powered on. The gun is easy to use and a great choice for a player that requires the absolute best. Perfect for woodsball, scenario play, and speedball, this gun has a fast rate of fire, a super smooth trigger, and ball on ball accuracy. You can get it in various color options, ranging from black to camo to gold and Laker purple. This paintball gun requires high pressure (compressed) air to operate. We recommend the Empire Carbon Fiber 68/4500 tank.
2. Tippmann Cronus: Tactical Edition
If you are just getting into the game and need something to dial you in soup-to-nuts, then consider this Tippmann Cronus Tactical Starter Package. This is an excellent way to get into the game and start marking opponents. This mechanical paintball gun is designed for reliability and fun times at a very affordable price point. Included in the package is a set of goggles, air tank, paintball pods and pod pack as well as a squeegee. The only thing you will need to pick up is a box of paintballs. Then you are ready to rock!
3. Empire Mini GS & AXE Paintball Markers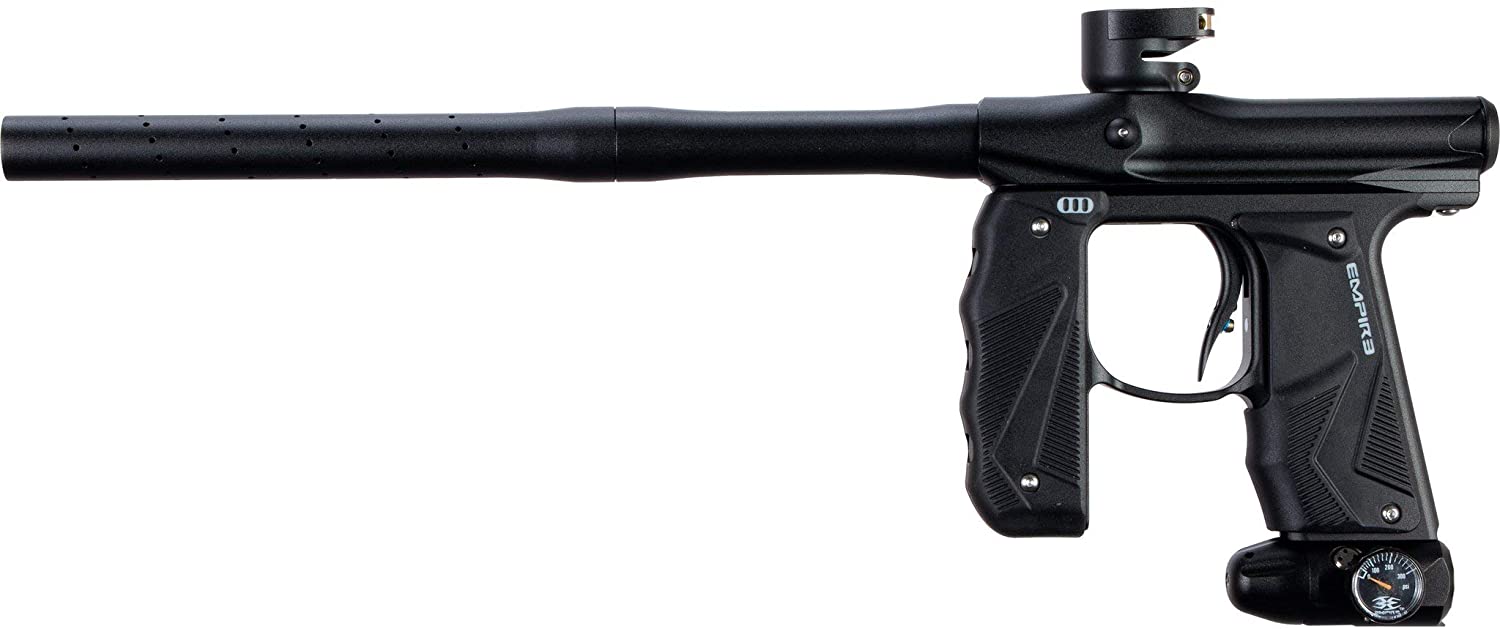 Empire has many great options, ranging from their Empire Mini to the far more substantial Empire AXE. Both are based on the same compact platform, with the AXE 2.0 including more tournament level features.
4. Dye Rize CZR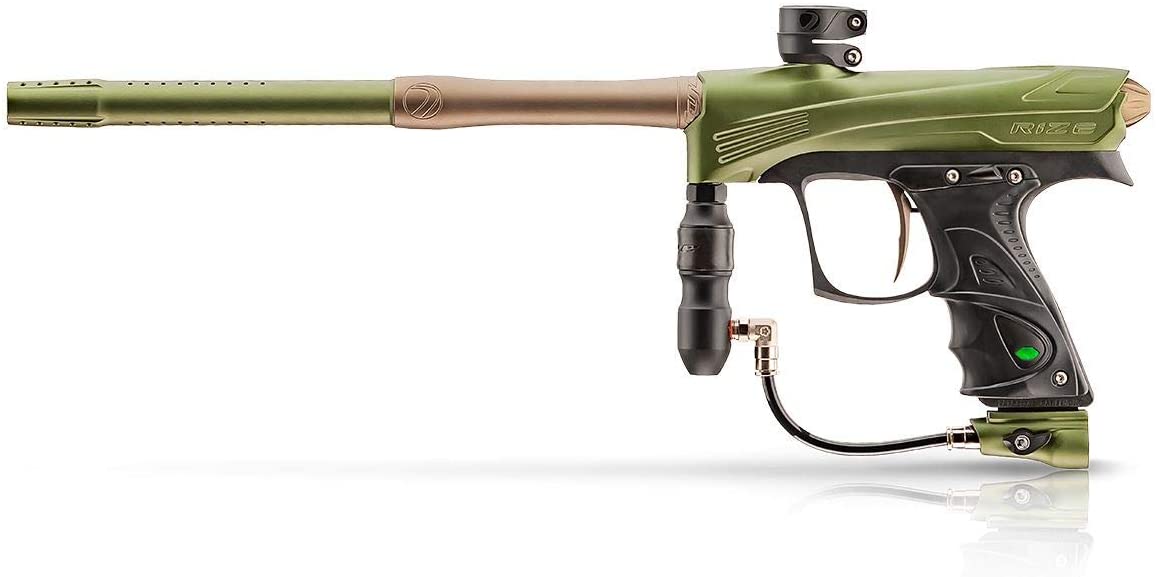 This is a fine-looking paintball market that many long time paintball players have been praising for its low price point and high-end features. The Dye Rize CZR is tournament ready out of the box, has a low operating pressure and is extremely cost-effective. The Dye Rize CZR is good fit for all experience levels. Four firing modes, composite frame, and LED display. A fast rate of fire, a great trigger, and a very robust yet stylized package.
5. Tippmann TipX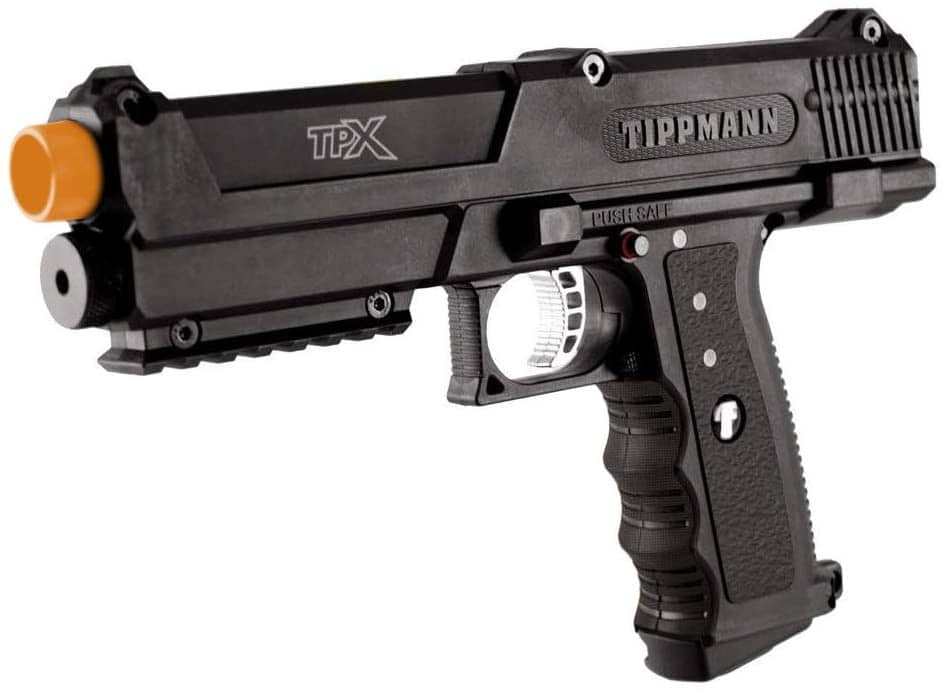 Paintball pistols are typically found in scenario and military-style reenactment style games. Pistol options are quite limited due to demand. That shouldn't scare you away though as Tippmann, known for their reliable and consistent paintball guns, has entered the pistol game. We suggest the Tippmann TipX as the best of the best. The TipX includes 2 pistol magazines, each with a capacity to carry 7 paintballs. The velocity is externally adjustable and the marker is powered by a 12gram co2 cartridge that is accessible from underneath the barrel. This is a great choice for the scenario/mil-sim player who is looking to expand their arsenal or someone who lives on a ranch that needs to mark cattle or trees.
6. Tippmann Stormer Tactical AR-15 Style Paintball Gun

As far as military style paintball guns go, this ranks at the top.Featuring flip up sights, a 6 position military style stock and a full picatinny (1913-military style) rail for optics, grips and flashlights.
7. Tippmann 98 Custom
Many people say that there is not a better marker for entry-level players than this one by Tippmann. People love this marker and there is a good reason for that. The appearance itself is impressive, but it can also be accessorized to show its true capability as an absolute unit. It is extremely durable, provides an accurate shot, and a perfect trigger.
Should you go for an electronic paintball gun?
These days, people are really leaning toward the electronic paintball gun. Also known as the electro-pneumatic market, these are battery powered, using circuit boards, creating an automatic shooting style. Basically, the major deal between this and a purely mechanical style gun is that the mechanical gun functions similarly, is mechanically activated, without relying on batteries and circuit boards. Most of the guns we prefer are hybrids of both the electronic and the mechanical, and it is quite likely that you will prefer one, the other, or the combination of both depending on what kind of environment you prefer to play in. Let us know what you think!