Today we feature Jason "Fat Kid" Edwards of the Philadelphia Americans in our first of a series of Pro Paintball player profiles. This article was contributed by the man that knows him best, teammate and long time friend Tim Montressor. Read on as Tim recounts some great moments had with Jason both on and off the paintball field and the shenanigans that followed.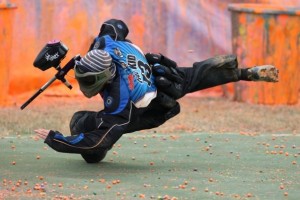 Jason "FK" Edwards Pro Paintball player profile by Tim Montressor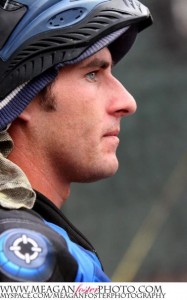 Mardi Gras is more than a festival of drinking and celebration. The event provides boys an opportunity to pretend to be men and men the chance to remember what it is like to be a boy. Mardi Gras and Bourbon Street are slathered with debauchery and sin, and yet based upon a foundation of anticipation and dreams. The 2004 Mardi Gras event was more than a paintball tournament for me. This particular date marked the beginning of a turning point in my life, not just because of my arrival to a team that would change my future for the better but the meeting of many new friends and acquaintances. Still, the miserable rain, cold weather and ankle high mud that plagued our paintball sanctuary were despised and yet revered because they forced the league to reschedule games for a later date. Rain-outs in paintball are a rare occurrence, one that is seen by only a select few players in a different era of the game. Nonetheless, the debacle and headaches of rescheduled games are sometimes the gift and souvenir that players need to fully enjoy their travels and open their horizons to new experiences and new people.
My arrival to the Philadelphia Americans was less like the arrival of a fellow short time professional player and more like the forced accompaniment of a younger brother that a mother nags the older children to allow to tag along. Thus, for my first tournament with the team, being excluded from team functions was not a surprising occurrence as I was not only the new guy but also the youngest member. However, in misery and desolation, opportunity and prospect have a tendency to break through the gray clouds of despair. So, as the rest of the big boys from the squad enjoyed a team dinner, I was left behind to fend for myself with nothing to do because of canceled games. But, instead of sulking around a vacant hotel, I was fortunate enough to stammer across the gang of All-Americans 2, the amateur team to the Americans, who were hired to referee the tournament and instead stumbled around Bourbon Street in a drunken daze.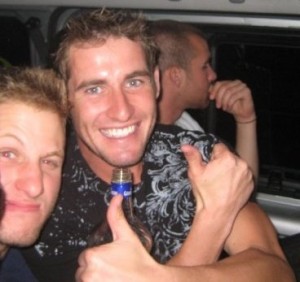 Hiding out in a dank New Orleans hotel room and drinking 40's of cheap malt liquor were a young Ryan Moorhead and Jason Edwards. The interesting tagline to these two players is that they're both deeply seeded in the Philadelphia American's organization. From a young age, these two have unknowingly bled for one team. However, Ryan's story is one for another day as Jason Edward's plot is entrenched with many twists and turns before his arrival at his current and hopefully final destination. I was only 19 at the time, yet still the old man among the small group. Little did I know that the 16 year old Jason "Fat Kid" Edwards was going to eventually develop into a top tier professional player and one of the vertebrae that comprises the backbone for the Philadelphia organization.
Always carrying a colossal smile and a giddy outlook like that of a pre -pubescent teenager, Jason Edwards is a true Florida boy. His love and admiration for good times and story making adventures is even greater than his infatuation for attractive party girls, thus his aura can quickly become inspiring and addicting. It's more rare to catch Jason on a bad day than it is to see a zombie fighting ninja, a true commodity and unusual form of soldier. Nonetheless, his story unfurls with numerous pit stops and standstills. In 2005, the All-Americans 2 made an untimely and unprepared jump to the professional ranks taking over the defunct Miami Effect franchise. The team possessed a significant amount of potential, however potential is a scary term that gets tossed around all too easily. Unfortunately, a few tough seasons can break even the most dedicated players down to a beaten core. Coincidentally, the determined will emerge from the chaos and find they will be stronger and more weathered. It didn't take long after the fallout for Jason to find a home with the Florida powerhouse, Miami Rage. It was during his short tenure with Rage that Jason materialized into the competitive player that he was envisioned to become. His clutch play and athleticism became staples to his game. Shedding the "Fat Kid" nickname that plagued and hindered his abilities, Jason took a truly professional approach to the game. His work ethic in the gym is comparable to that of many other professional athletes, a true testament to his dedication and obsession with the sport, or on occasion his own vanity.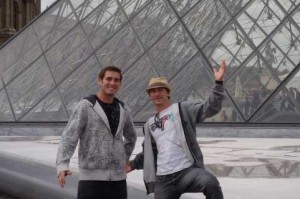 After a few other stops that included the Jacksonville Raiders and DC Arsenal, Jason eventually returned home to the Americans prior to the 2008 season, filling the roster spot that he had used for one tournament in 2003 as an infantile, inexperienced kid. This time around however, Jason's residence possessed a new tone and excitement as he provided a much-needed strong backline for a young, rebuilding team. Nevertheless, I wasn't sure of Jason's fit with the team until the North East Open in August of 2008 at our home field in Pittsburgh. It wasn't his play on the field that I was apprehensive about, but his inner role within the group. The NEO event was frenzied and exciting because it was at our home field, in front of all our friends and family. As an added bonus, we were able to stay at our own team house instead of establishing short-term dwelling in an unknown hotel. However, trouble is only bound to ensue when a dozen 20-some year old guys are trapped in one house for three days before a tournament with nothing to do. Girls, parties, and good times flowed through the team and house like a small stream quickly rushing down into a white water river. Surprisingly, the instigator and ringleader wasn't the usual culprits of Pat Roberts or even Ryan Moorhead, but the young Florida boy who couldn't stop smiling for ten consecutive days as he crushed all the competition on the paintball field as well as at the beer pong table. This was the first of many adventure stories that Jason assumed a key character role within, however future anecdotes would develop in far off lands such as Germany, France and even the wrongdoing known as Las Vegas.
Sometimes, I am not quite sure what Jason is searching for within the game, as we all have our own priorities and prerogatives for our motivation and desire to continue year in and year out. But, I am sure that whatever it is Jason wants he will eventually find, as he is very good about keeping his eyes open and looking for opportunities, whether they sit at his feet or far off in the unforeseen distance. His life mimics his play style on the paintball field as he lives within a specific level of security but has no problem dropping his comfort blanket to gamble and push all his chips into the middle and hope for a big win. "Fat Kid" has proven to be a unique and complex piece to our never-ending puzzle of a team and organization. Hopefully, Jason will follow the path that many players have chosen to pursue before him, and that is finishing his soon to be storied career with the Americans. But regardless of his future endeavors and decisions, he has accomplished one of the most difficult of tasks, a goal that supersedes tournament victories and season title honors, and that is gaining the respect and admiration of his peers with his stellar play, great attitude and endless grin.
"If in our daily life we can smile, if we can be peaceful and happy, not only we, but everyone will profit from it. This is the most basic kind of peace work"
-Thich Nhat Hanh