Michael Borenstein recently sat down with PRO paintball player Nico Perry of Seattle Thunder. Read on to learn more about what it's like to be a young player competing at the professional level, how he is able to balance his paintball life with school, reflect on Galveston, and how Thunder is preparing for Phoenix.
Thanks to Raw Fotos and Bjorn Bainto for photographs.
Michael B @ ProPB: Why don't you start by telling us a little bit about yourself – who you play for and have played for and how you got to where you are now.
Nico Perry: Right now i play for Seattle Thunder. Before this I played on Tacoma Notorious and before that Part-Time Ninjas. Hard work and determination got me to where I am skill wise, but without the support of my teams that I have been on and my parents, I couldn't have been at the level I am now. I owe it all to the people who helped and supported me.
Michael B @ ProPB: Very true, support is key. Being so young, how do you balance your school work with now playing paintball at the pro level?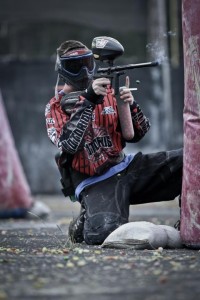 Nico Perry: Ha ha, the school topic. I knew this was coming. In my family, school is very important. Playing paintball nationally and having to miss school Thursday-Monday a few times a year sometimes takes a toll on my school work. I just have to be on top of it. That might mean taking a test a few days before I fly out, or doing homework in the hotel room. Even though I'd like to, I'm not going to make a living playing paintball anytime soon, so school work has to take precedence over paintball.
Michael B @ ProPB: As a first year pro in the PSP, did you find it intimidating to be going up against long-time veteran teams such as Dynasty and Ironmen?
Nico Perry: Yeah, to be honest, I was a little scared going into those two games. You never really want to count yourself out, but against teams like that that have great coaches and players alike, I was unsure if we were ready or not. But after that first game against aftershock and having my boys behind me, the fear left me when those games came around.
Michael B @ ProPB: What are both you and the team doing in order to be prepared for the Phoenix event in only a month?
Nico Perry: Well, since the pros weren't able to finish the tournament, we have to prepare for two events: Galveston and Phoenix. I have been stepping up my workout regime, doing cardio and working on my core. Besides our regular team practices, I plan to also work on my own gun skills. In this unique situation of having two layouts in one weekend, it will be a challenge for all the teams to be prepared equally for both tournaments.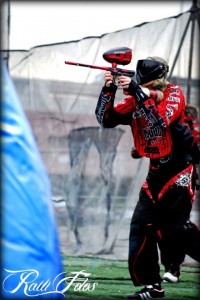 Michael B @ ProPB: Were you disappointed at first to be told your team wouldn't be able to finish Galveston for more than a month?
Nico Perry: As I was standing in a 6-inch puddle of water getting rained on and having fire ants biting me, I guess you could say I wasn't that disappointed, haha. Having this extra time just gives us the chance to go over what went wrong in the Dynasty and Ironmen games and be that much stronger come Phoenix.
Michael B @ ProPB: Yeah that is nice to have time to review and come back with new outlooks. Any shout outs you'd like to make?
Nico Perry: Of course! I thought you'd never ask. I want to thank all our sponsors: Empire Paintball, DLX, Understood, Diamond Hill Paintball, Ninja, Raza, Exalt, and Pro Paintball. I also want to thank Corey Field and the rest of the boys on Thunder for giving me such an awesome opportunity. Big thanks to my family, especially my dad, who has been with me throughout all of it.
Michael B @ ProPB: And just to remind us, how old are you again?
Nico Perry: 15, turning 16 in april.
Michael B @ ProPB: Well Nico that wraps up my questions… thanks so much for taking the time to talk to us and good luck in Phoenix!
Nico Perry: Anytime, thanks!