Earlier this season we rumored that GI Sports was developing a series of goggles for the paintball market. When we wrote the original story we had a decent amount of intel and back story but were limited to conceptual art as the goggles were still in development. Today a photo has surfaced that indicates that at least one of the GI Sports paintball goggles will be launched in the near to immediate future.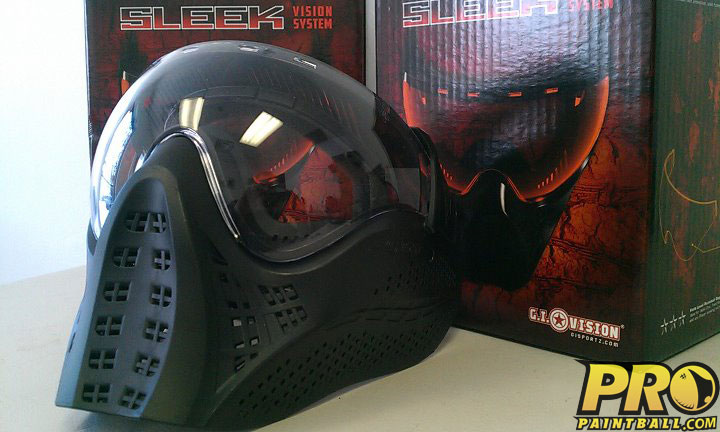 Here are a few details on the GI Sports SLEEK Goggle System from a story we wrote back in June.
The Italia brothers who own GI Sports/Vision/Milsim also happen to own OptiCoating, a goggle and lens manufacturing business as well as a EyeTactical, a tactical goggle company. With all of that in mind, ProPaintball insiders wagered that it was only a matter of time until the Italia brothers released a paintball goggle of their own.

Graphics placed on the GI Sports paintball trailer and box art only served to fuel the speculation. Last fall, ProPaintball insiders zeroed in on the the GI Sports & Milsim paintball box art featuring a sneak peak at the new paintball goggles from GI. The goggles pictured in the box art will be officially branded as the GI Vision SLIVER goggle system. Yes, you read that right, S-L-I-V-E-R. Designed and manufactured by Richmond Italia's goggle company OptiCoating, the new GI Sports goggle systems are said to have great optical clarity and feature a very easy lens replacement system. Read below for a first look at the new paintball gear and goggle systems from GI's new line, GI VISION.

GI Sports will be unveiling two Goggle systems. The first goggle will be known as the GI SLEEK Vision System. The GI Sleek Vision system features GI's "3 star" rating, meaning it has been designed for paintball fields and recreational players. This paintball mask will be offered at a lower price point.
What do you think about the new GI Sports paintball goggles?