You may remember back in March, during the 2011 PSP season opener in Texas, when a new Empire Paintball loader was spotted in use by some of the Pro paintball teams like San Diego Dynasty and Los Angeles Infamous. We said we would pass along more info as it became available…. well, here it is! The new Empire Prophecy Z2 Paintball Loader!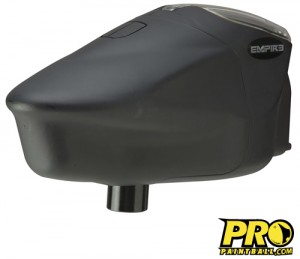 Product Information:
The Empire Prophecy tradition continues with the release of the Prophecy Z2 Paintball Loader. The Prophecy Z2 Loader continually monitors drive force, rate of fire, and it automatically clears a jam before you have a chance to miss that perfect shot. In the blink of an eye, the Prophecy Z2 will have performed more proactive measures than any other loader ever created. It's the most advanced, easiest to use feeding system ever designed. Made of super strong-reinforced composites combined with its ultra-lightweight design and low profile, the Z2 will supercharge every player's game.

Features:
•No Tools needed for assembly and disassembly
• Sound Activated force feeding
• Infrared sensors provide automatic ball jam clearance
• Low profile and lightweight
• Redesigned drive carrier for consistent and faster feeding
• Integrated one-piece feed neck for durability
• Simple ON/OFF toggle switch
• Includes built-in Rip Drive™ System
• Push button Forward and Reverse buttons
• Shoots Reballs consistently
• RF (Radio Frequency) Upgradeable
• Capacity-approximately 200 paintballs
Videos:
[youtube]https://www.youtube.com/watch?v=oZpz4lGiz9A[/youtube]
[youtube]https://www.youtube.com/watch?v=MRcU2Um6RvY[/youtube]
[youtube]https://www.youtube.com/watch?v=aE3PSxAbDMA[/youtube]