When we look at the landscape of the NXL Professional paintball league and have the conversation of the best players in the league, names such as Goldman, Archie, and Malloy are prevalent. I believe the conversation is flawed, because when it comes to the best player in the league, there needs to be a balance between elite marker skill, high paintball IQ, and positional versatility.
Marcello Margott has been a pillar in the professional paintball landscape for more than a decade. He is redefining the subtle nuance and elite skill required to be, arguably, the most complete player in the league. As a player, he has all the intangibles that paintball coaches dream of. 
The Case for Marcello.
As mentioned above there are three critical areas of evaluation when we begin to look at who the most complete player in the league is; elite marker skill, high paintball IQ, and positional versatility.  Many will ask about athleticism, and I left this off the list because with the direction the NXL is going, there are few pro players left who are not great athletes in the traditional sense. I will reference the 2020 NXL World Cup for parts of my argument. 
Elite Marker Skill:
Taking just a few minutes to watch Marcello play, one of the most immediate skills that becomes obvious is his marker skill. While of course almost all pro players in the NXL are skilled with their marker, Marcello takes it to another level. In a typical point, Marcello combined decades of experience to show this.
When he brings his marker up off the box, he can consistently shoot multiple spots on the field, landing 2-3 paintballs in some of the tightest windows on the field in milliseconds. While doing this he is also able to utilize subtle marker adjustments to help provide supporting cover for his teammates to help them make their spots. In addition, his ability to control zones with elite ball placement and the best first shot in the league, makes him a dangerous gun-fighter. 
The 2020 NXL World Cup Final is perhaps the best game to show this. For the majority of the finals, he was given a task that almost no other player in the league was able to do all event; eliminate Billy Bernacchia, arguably the fastest paintball player in the league. Game after game we saw Marcello able to do this, shooting Billy 5 times in a row to start the match and a total of 7/11 points. Show me any other player capable of shooting Billy 64% of the time in a match.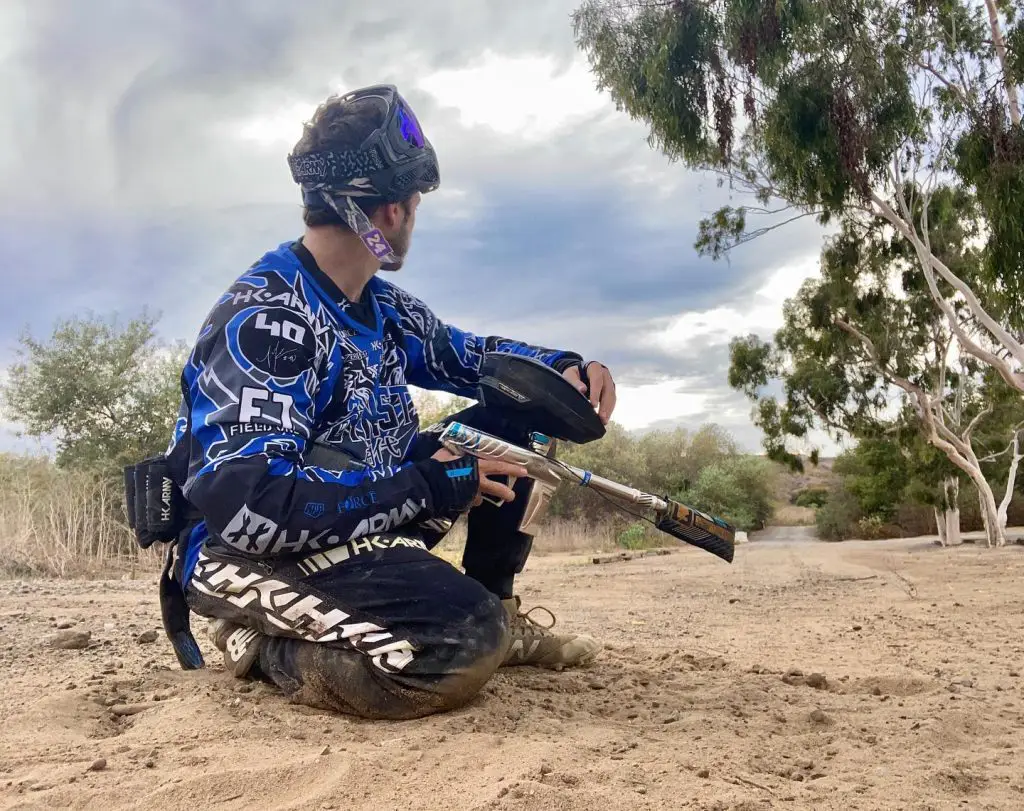 High Paintball IQ:
When we begin to analyze paintball IQ, it can become a bit foggy on what that means. To me, it means a consistent track record of excellence, being relied on by your team, year after year, to play the toughest spots on the field, and survivability.
Survivability is a great indicator of IQ, especially for a player that engages in gunfights as often as Marcello, because it shows a player that is engaging with a purpose. When Marcello decides to gunfight, he is doing so for more than just an elimination. He is controlling a zone, he is edging in support players in order to open small windows for his attackers,  and he is getting more information to diagnose the best possible move for his team. 
In the World Cup Finals Match, out of 12 points played, Marcello was among the last 3 players alive for his team in 11/12 points, an astonishing 92%. He finished 7/12 points as alive or the last player alive for his team, an even more impressive 58%. What is mind-blowing is the fact that he did this against San Antonio X-Factor, the hottest team of the last 3 seasons.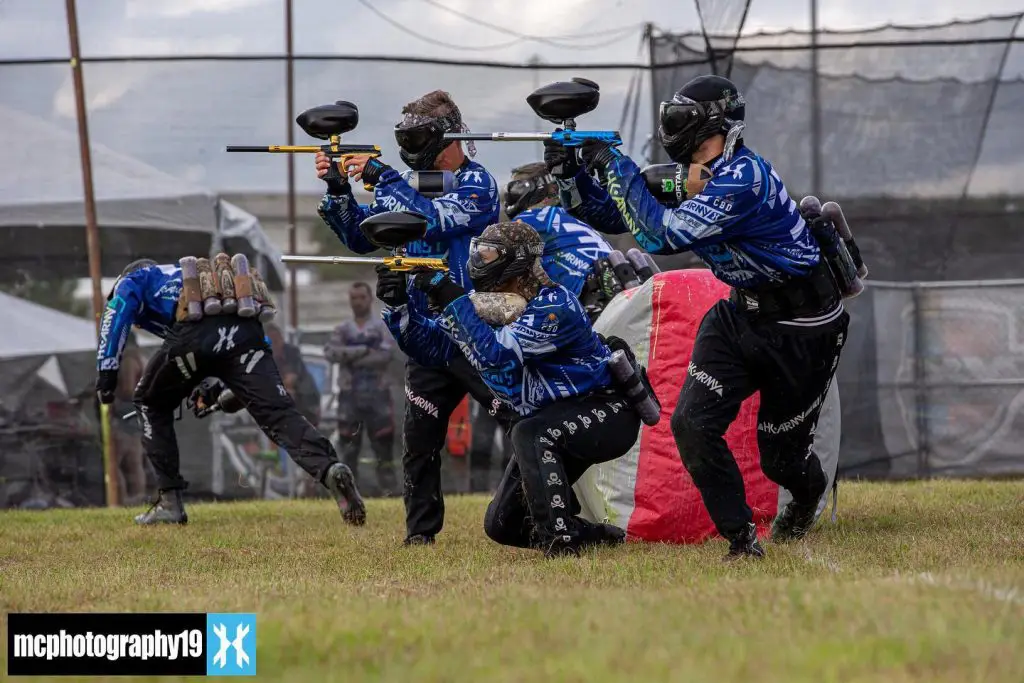 Positional Versatility:
This one is fairly obvious to me; any top player needs to be able to play any position on the field in a moment's notice. We can analyze almost any game Marcello is on the field and see him play every spot. Whether he is asked to shoot 12 pods from the back line, support the dorito attack, insert into the snake, or create chaos in the center, Marcello answers the call.
As noted above, Marcello was tasked with playing the snake side can, a spot that many players struggled in. The bunker had to be played extremely tight, and you had to be ready to fill a gap in the center or snake side at any time. Perhaps only Raney Stanczak has been able to rival Marcello in terms of pure versatility over the last few seasons. 
During the 2020 World Cup, when asked to push the snake side or go up the center, he did so flawlessly. When listening to this game's Sound FX on GoSports, his level of communication from any spot on the field was the biggest advantage Dynasty had. I have seen few players able to quarterback a field from any spot and Marcello does this consistently. No one player effected the outcome of the 2020 World Cup more than Marcello did.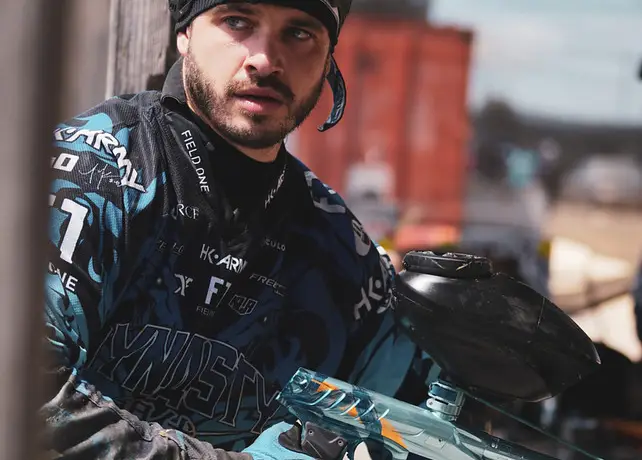 Talking with Marcello.
When conversing with Marcello, his commitment to the game, and his endless drive for excellence is extremely evident. The intangible portions of his game and subtle nuance in his technique are hard to quantify with stats so I sat down to talk with him to show everyone what is obvious to nearly every other pro and coach in the league. 
You had to take on a larger role for this event with the injury to Ryan Greenspan, how did you prepare to take on that leadership role? 
Marcello: "I'm no stranger to that role.. Dynasty is full of natural leaders and that's what makes the team so great. Any one of us can step up and lead the team at any given time. To win in the pro division you have to have an immense amount of discipline in your preparation – and then you have to execute. The team that makes the least mistakes is going to win on Sunday. My focus is always to get the best out of us. I'm here to make sure we hold ourselves accountable are doing the necessary things it takes to win. This event was no different."
What was the conversation like in the Dynasty pit after you got knocked out on Sunday at NXL Florida? Were there some negative feelings or was it all focus on looking forward to the next event? 
Marcello: "It was actually a really positive one. I pulled the team together on the field after we shook hands with X-Factor and expressed my happiness with the organization. I think we showed extreme resiliency in Florida. All within a few weeks of the event we found out we were going to have a new coach, No Ryan, No Dalton, Blake was dealing with an injury and we were bringing in a new player that has never seen the pro field to get meaningful reps. We had every excuse to just roll over after Friday but we came together and played some great ball to earn a Wild Card spot. We made a few situational mistakes against X-Factor that ended up leading us to an overtime loss but in all honesty that game could have gone either way. I feel that if we win that game we had a good chance at winning the event. Things were starting to click and most importantly, our young guys really stepped up. To me, this event was a huge building block for the future of Dynasty and the focus is on getting better for Philly. "
How has coaching divisional teams helped you at the pro level? Does working with these teams help develop any new areas of your own game? 
Marcello: "Not just coaching divisional teams, but competing with teams internationally. I talk about this often.. When you go overseas and are expected to lead a team to championships you have to build an entire culture of an organization. You are constantly preaching the things you've learned and of course that benefits your own game too. It is a constant reminder of the dos and don'ts. Most importantly though, it has helped me understand one of the most important things in leadership and that's figuring out how to get the absolute best out of each of your players. Everyone is different and its imperative to be able to connect with each of them uniquely.
"
Was the decision for Tyler to leave a known event for the team, or was it a sudden bomb that was dropped on the team?
Marcello: "Tyler gave his heart and soul to Dynasty for 8 years so of course any move at all is going to feel unexpected. That's my brother though and I'm happy to see him get paid. He has devoted his life to becoming a top professional both on and off the field with a wife and 2 kids that have sacrificed so much to support him. There's no reason he shouldn't be compensated appropriately for that."
Now more than ever, the weight of Dynasty's success is laying on your shoulders. What does that mean to you and how will Dynasty pull the roster together to compete at the highest level for the rest of the season?
Marcello: "The weight of success lies in the culture of the team. It's about the work a team is willing to put in. We have a lot of work to do and a lot to prove – it's something to be excited for."
Marcello wanted to thank his sponsors HK Army and Field One Paintball. You can catch him on his popular show, the Play the Game Podcast on Itunes and Youtube. If you want the chance to learn from one of the greatest minds in the sport, Marcello's company Paintball IQ offers books as well as clinics to improve your game. He will be at the bKi Clinic at Blastcamp and the bKi Summer Camp in July.