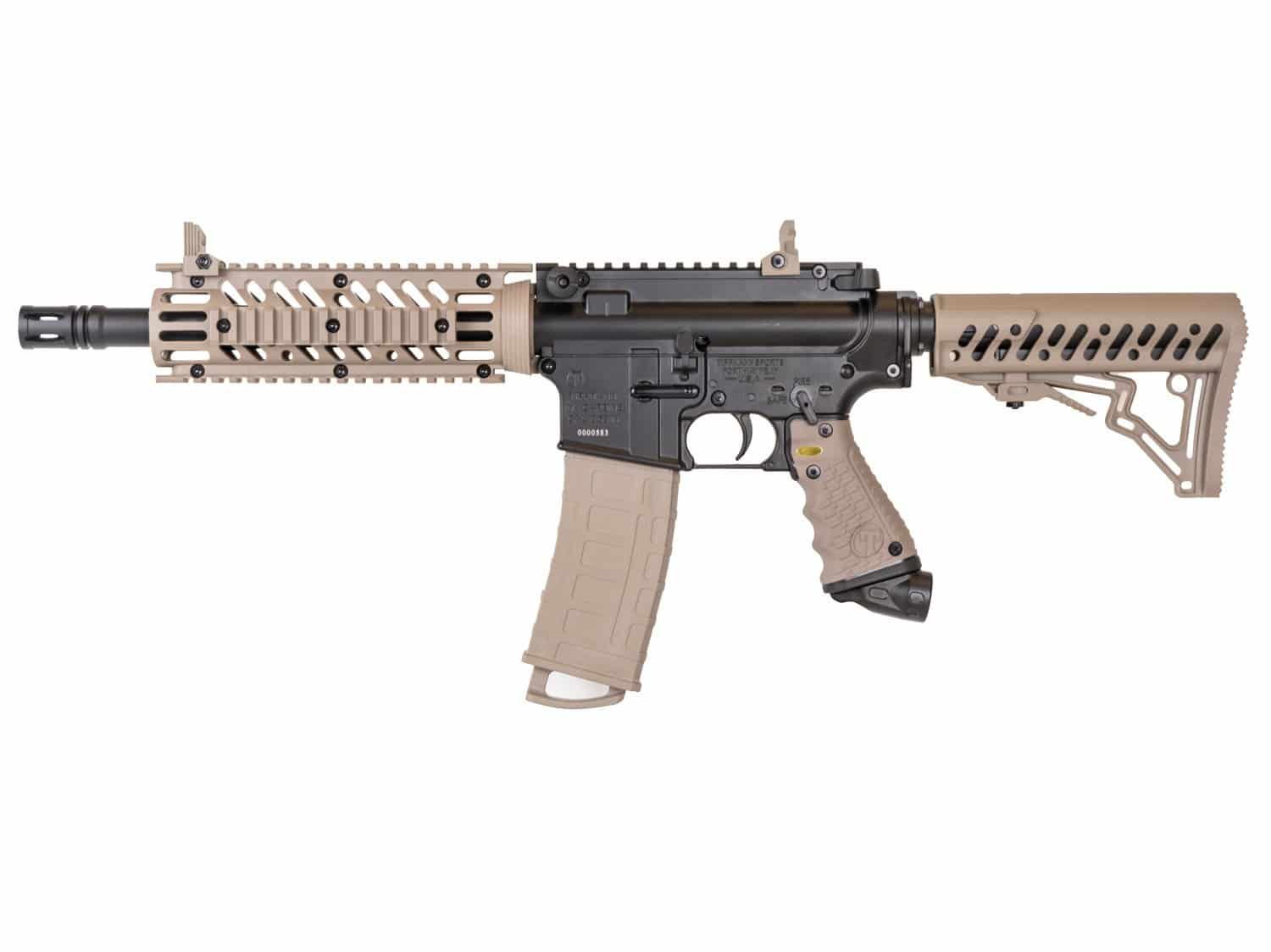 Tippmann TMC is a 68 caliber magfed paintball marker that is known to be one of the best budget paintball guns on the market. The TMC has an exceptional combination of features that makes gameplay enjoyable and helps achieve accurate hits while the magazine fed element adds to the sense of realism during gameplay. The Tippmann TMC is a mag fed version of Tippmann Cronus and is a favorite for beginners and intermediate paintball fans and those looking for a mil-sim style experience. In comparison to Cronus, the TMC has many of the same features and reliable internal parts that we have come to expect from Tippman. The TMC offers the shooter the ability to switch between either magazine fed, or hopper feeding system to load paintballs into the gun.
Related Post: Best Paintball Guns

Tippmann TMC MAGFED Paintball Marker – Black/Tan
Tippmann's latest .68 Caliber MagFed Extremely Authentic Milsim Styled Tactical Paintball Marker
THE MOST REALISTIC MILSIM SCENARIO PAINTBALL GUN ON THE FIELD! Dual feed option: Go MagFed or Traditional Loader and Get the Best of Both Worlds in One Awesome Package! Perfect for Close Quarter…
TIPPMANN TMC MAGFED .68 CALIBER SCENARIO PAINTBALL MARKER – Semi-Automatic – Adjustable from 250-325 FPS – Includes (2) 20 Round Spring Driven Magazines – Dual Feed Option: Hopper or Magfed Design -…
Pros
Lightweight and easy to maneuver
Tactical style with 1913 picatinny rail so you can bolt on lights, grips and other accessories
Functional charging handle
Aluminum receiver set for more realistic feel and durability
Front and Rear flip up sights
Sling Mounts
Choice between magazine feeding system or hopper feeding system
Magazines are reasonably priced
Gas through grip allowing for remote hoses etc. (this lets you place the tank in the backpack and have a more realistic gun handling experience)
5 position collapsible stock
Cons
Only comes with one magazine
Would like to have a front grip out of the box
Build Quality
Following in the heals of another successful marker, the Tippmann 98, the Tippmann TMC paintball marker series is made of a combination of durable materials. The body itself is made of aluminum while the rails, grip, stock and other accessories are made using a polymer. The main parts of the marker are made of aluminum. This includesthe inline bolt system, inner gears, trigger assembly, and frame which are all designed to withstand even the hardest user. Tippmann followed best practices when designing this marker. The combination of materials and stylish lines the designers followed are exceedingly common in real world applications including military assault rifles and the civilian variants, ar-15 style carbines. The build quality of the tmc paintball marker enables the paintball marker to shoot under different weather conditions and maintain its consistency and reliability. The mechanical safety provides a reassuring click when engaged, putting to rest any concerns about your gun's safety. One thing that we noted when building our Tippman TMC review is that while the TMC is an assault rifle style, the Tippmann TMC is exclusively semi automatic rate of fire. While it may concern some players looking to be play the role of a full auto terminator on the paintball field, the semi-auto mode (one paintball per pull of the trigger) is the de-facto standard at recreational paintball parks across the world.
The Design
The Tippmann TMC design is similar to the one of the AR-15 real-steel firearm. This paintball marker is designed to be fun and reliable while also offering aesthetics and upgrade paths to enhance your "mil-sim" style of game play. This particular marker is setting the standard for the new class of tactical paintball markers. The polymer design features a rail system that fits a variety of accessories including front grips, optics, bi-pods, lasers, and flashlights for those looking to personalize their gun. Additionally, the fact that TMC has no electric parts actually provided a measure of comfort for us. Should we happen to fall (or crawl) into mud or water, this marker would continue to function without frying a circuit board and ending the game early.
The CO2 tank is built in such a way that it is attached to the bottom of the grip unlike being in the stock. The TMC rubber grip will contour to the lines and shape of your hand. Besides, to switch from safety to fire, or access the mag release buttons you should just flip your finger. A downside of the CO2 tank would be it gets loose and leaks easily which would be a bad experience during a paintball game. Another downside in the design is the charging handle.
The Ergonomics
Tippmann TMC paintball, a high-quality mag fed gun, is very light in weight. Tippmann TMC gun weighs about 4lb 6 oz and it is a surprising weight as it has a large mag fed paintball gun.
The TMC stock is adjustable and can be put in five different positions, enabling you to customize your length of pull and position of the stock. The gas system of the TMC is routed through the trip with an industry standard ASA female connection at the base of the grip. This setup allows the player to choose between placing a air tank at the base of the grip, or as we would suggest, running a remote hose to your paintball pod pack, or hip mounted pouch, and placing a tank there. This remote air method allows you to run a very balanced paintball marker and when coupled with the magazine fed option, provides the most realistic "mil-sim" for your equipment during game play. The TMC setup prevents the gas line from affecting the appearance and at the same time ensuring the paintball markers are fully operational.
Dual Feed Option
The Tippmann TMC features a hopper adapter that is easy to install and quick o use. You can use either magazine or a hopper and the Tippmann tmc magfed style paintball guns allow you to use a different type of paintball which are called shape projectiles which are more accurate than the commonly used round balls. However, the shape projectiles have a higher price because of the high accuracy. The best strategy to use is to put your shaped projectile ammo into your magazines so that you are able to put the inexpensive paintballs into the hopper. The flexibility works to your advantage if you need to send a ton of paint downrange or lay down cover fire.
Magazine Option
Every TMC Tippmann marker magazine holds 19 balls. We would recommend purchasing at least an additional 2-4 magazines to take out with you on the field. You never want to be caught short on paint and surrounded by targets of opportunity.
The magazines themselves are quite reliable — just make sure to pay attention to how your loading them. Also, try not to drop them too hard on the ground. After all, cleaning up broken paint is for guy on the other side of the field.
Precision
The TMC includes a set of iron sights – very much in the style/vein of ever popular Magpul "BUIS" (Back Up Iron Sights). These sights enable you to zero the marker on your target and make rapid, repeatable hits on opposing paintball players. Tippman TMC provides respectable accuracy with mid grade paintball's. You can eliminate any target up to 150 feet with the 12-inch barrel and a clear shot, provided you keep your barrel clean and take your time lining up your shots. While we have all heard the line "one shot, one kill", we at ProPaintball.com suggest sending 2-3 balls at your target to insure that nothing prevents you from marking your opponent.
High Shot Quality
Tippmann TMC is an exceptional magfed paintball marker that uses a blowback style bolt valve that functions at the tank pressure meaning the TMC runs at approximately 750 PSI. Because of the high pressure, the paintball gun is loud with a slight kick which can be a problem. However, TMC has an additional girth that helps to reduce the kicks while the body material eliminates some noise.
Customization
Tippmann TMC features easy upgrades that make your customization for the marker easy. Besides, the inner parts of the gun are quite similar to Tippmann 98 as you can use its barrel and get great results but also you can upgrade the trigger and the hopper.
Maintenance
Tippmann TMC paintball gun needs everyday cleaning and maintenance but in comparison to other markers, it is low maintenance. Cleaning mud and dirt from the gun helps the paintball player to be able to stay in shape easily.
FAQS
1. Is the Tippmann TMC good?
Tippmann TMC is a good durable paintball gun as it is lightweight, with a 98 threaded barrel, has great rails, and comes with two magazines. It is also ideal for beginners who would like to use mag fed but have the option to switch back to a traditional paintball hopper loading system. Read the review on the TMC above and learn more.
2. Is the Tippmann TMC first strike compatible?
No this marker is not first strike compatible. For those not familiar, first strike rounds are a finned type of paintball that requires a specific feeding system and loading mechanism. While they fly flatter they are expensive and difficult to find.
3. Is the Tippmann a5 a good gun?
Yes, the Tippmann A5 is a good paintball gun for anyone that is looking for reliability, consistency and long lasting game winning performance.
4. Is the Tippmann 98 Custom a good gun?
Yes, the 98 Custom paintball gun that is ideal for new players, field rentals and those that do not want to fuss with their gear during games. The 98 Custom has a long list of aftermarket parts available and has been a proven winner for the last 30 years.