Editors Note: The Gryphon was discontinued in 2016. We suggest you consider the Tippmann Stormer paintball gun.
Or check out: Best Paintball Guns
Tippmann Gryphon Review
When you are a paintball player, you need to have the right marker. If you are a newbie or play paintball once in a while, you may not be sure which is the right marker. At this stage, before you gain experience, you are looking at something that is newbie-friendly.
That said, it's neither a cheap nor expensive paintball marker that will carry the day but one with easy to use features and is affordable.
With that, let's delve into a comprehensive review of the Tippmann Gryphon marker and why it's a great option for beginners to intermediate paintballers.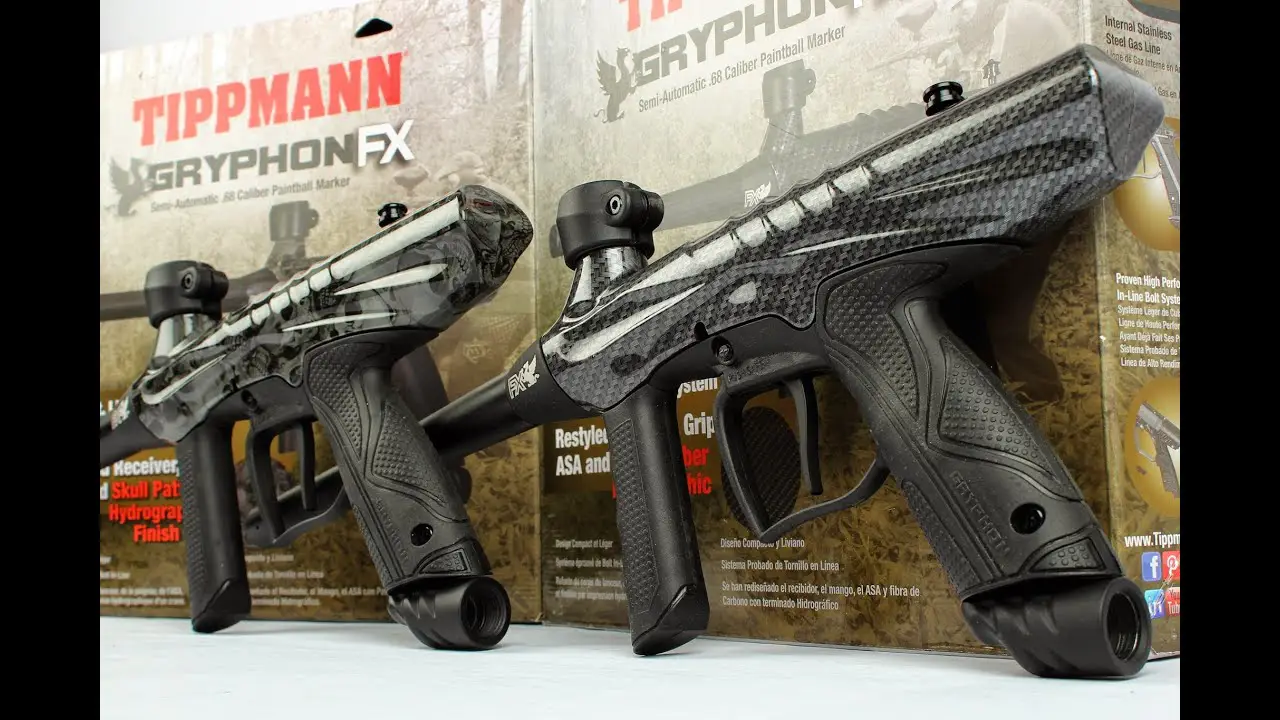 Tippmann Gryphon Paintball Gun Key Features
Design
The Tippmann Gryphon is a 68-caliber product, with a standard design, does not weigh much, and has an inline blowback paintball that looks great. It has a blade trigger that fits two fingers coupled with a high composite body.
You can be comfortable holding either the front grip at the front of the blade trigger or the .45 grip of the handle.
This marker comes with a locking vertical feed where you can place the hopper. And although it's a standard hopper, it gets the job done. So if you are a beginner or starting to learn paintball, Gryphon will be a great option.
And something else, this is the first marker for beginners that uses an internal gas line.
Performance
The Gryphon marker performs incredibly although some players find the trigger pull too long. To navigate this, it is advisable to use fingers to fire and the marker will work just fine.
To improve performance, this marker is designed to shoot up to 8 balls per second, thanks to the gravity-fed hopper attached.
Something else about Gryphon's performance is the fact that paint does not have to be an issue. In fact, during a normal firing rate, you're less likely to notice a change in speed. Also, there is no apparent evidence of paint breaking during the shooting.
Since Tippmann is a renowned brand when it comes to creating resilient and reliable markers, their paintball guns are easy to use and allow a great level of accuracy in the shots.
Gryphon's strength is also seen by its ability to withstand harsh conditions and still perform well. For example, if your marker dropped in a pond or dirt, it will still function optimally. This is a great thing as the fields can be messy.
Upgrades
It is important for players to know whether the Gryphon paintball gun is compatible with other threaded barrels. And yes, you use Gryphon paintballs with various A5 threaded barrels.
And when it comes to modifications and upgrades on this weapon, the options are unlimited – from the tactical aspect of the weapon to appearance. For example, if you want to modify the performance, you may consider having a longer barrel or a larger carbon dioxide tank. You can also upgrade it to an M16 rifle with ease.
Durability
Tippmann Gryphon paintball is among the most durable and extremely rugged marker in the market. This is despite it being among the most affordable and easy to use marker.
Even when subjected to harsh conditions like mud or water, its functioning will remain intact. Although new paintball players may make various mistakes in the field as they learn the craft, this won't have a significant negative implication on this marker.
Maintenance
Some newbies purchase Gryphon paintball without a clear understanding of how to maintain the weapon for increased durability and optimal performance. Some players are even scared that the maintenance procedures may be too demanding.
But when it comes to this weapon, there is minimal maintenance required as it doesn't contain so many parts, and no need to dismantle the parts. With just the normal measures like proper storage, you're not likely to experience any leaks or other repair-related problems.
The only thing required is a drop of oil by ASA, and that's all. So, for people who don't love procedures and maintenance-related staff, this can be a great option.
Sound of Gryphon Paintball Marker
Users find this paintball marker quite quiet, thanks to its center feed design that uses less gas to operate. Minimal noise means that you can improve your game play as you can move around the battlefield without anyone noticing you.
Warranty
As a product of Tippmann, it comes with a two-year warranty. Unlike other brands that give you just a few months, this one allows you to return the gun for repair in case problems arise which saves you some bucks. Isn't that stunning?
Pros of the Tippmann Gryphon Gun
Lightweight – you can easily carry it around
Allows great distance and provides shooting accuracy
Extremely durable and exceptionally versatile
Among the most affordable
Made from a reliable brand – giving a guarantee of quality
Easy to use, making it perfect for beginners
Internal gas line
You can upgrade or modify the gun/increase the CO2 tank
Gryphon has all metal in-line bolt system
Gryphon paintball marker is among the most efficient markers
Comes with a 2-year warranty. This safeguards your money and ensures you get value
A great option for speedballs and a small field
Zero to minimal maintenance requirements
The Gryphon paintball is quiet, thanks to its center feed design
Cons of the Tippmann Gryphon Gun
Shoots slowly when the trigger pull is long
Gryphon paintball marker is difficult to disassemble
It's stock barrels requires improvements
This paintball marker can be limiting for experts who play in large fields.
Conclusion of Gryphon Paintball Gun Review
If you are new to paintballs or are looking for an affordable, easy to carry around paintball that is cheap, then the Tippmann Gryphon paintball gun is perfect for you. This 68-caliber product is designed to last longer, give you exceptional performance, and be accurate in shooting. Its internal operating system is sturdy and can withstand harsh weather conditions such as water and mud, without affecting the performance. Another incredible thing about the Tippmann Gryphon paintball gun is that you can upgrade it in appearance or tactical strength.
During this Tippmann Gryphon paintball gun review, we noted that it's designed for beginner players, for smaller fields, its stock barrel requires a serious improvement, and the shot may be slow when the trigger pull is long.