Last week Baca Loco over at View From the Deadbox had the opportunity to catch up with former Pro Player Tyler Humphrey. Tyler earned his stripes as a World Champion paintball player with Baltimore Trauma in 2005 and is quite a character. Tyler's Pro*File is worth a read!
VFTD: A remake of 'Escape from New York' is in the works and one of the contractual stipulations is that the Snake Plisskin character "I heard you was dead," has an eyepatch, must be called Snake and remains a "bad ass." (Yes, that is literally part of the deal.) And it reminded me of Tyler because I tend to think of him as one of the last of a generation of Pro players who lived the role the way all the hopeful kids on the outside looking in dreamed about.
Yeah, I know. If you want to be a stickler Tyler isn't currently ranked pro by APPA, so if you want, consider this a throwback Pro*file.
Name: Tyler Humphrey
Age: 20-something
Hometown: Raleigh, NC
Occupation: Operations and IT at Paintball Central
Family: Best Parents in the World: Brian and Marilyn, Little Sister Lindsay, Big Brother Brian
Interests other than paintball: I'm really into tennis these days, I play on a couple teams and in different leagues. I'm just a huge fan of all sports and competition, really. I'm also really into politics, all the way from the local level up to DC.
1. What was your first paintball experience and who introduced you to the game?My brother and I started playing together when we were young'ins living in Ohio.
2. What team do you play for now?
I have been really involved with and coaching a team called Lost Boys. I hope to be playing with those awesome kids in the near future. Just being around a group of great guys that are passionate about competing and winning has really re-motivated me!
3. What teams have you played for in the past?
I've played for numerous teams in Europe like the Ton-Tons and Moscow Phoenix, a few teams here in the States like Gridlock, Aftermath, Image (2007) and Shockwave. But really the only team I've played for that matters in my career is Trauma.
4. What role do you play on your current team?
Sadly, I'm nothing more than a coach at the moment. L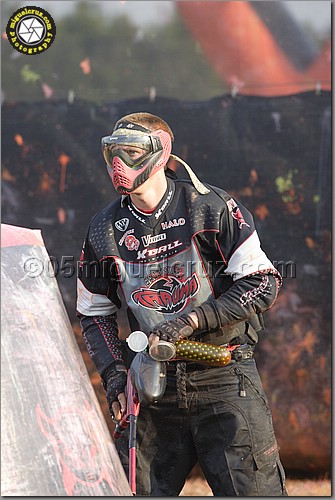 5. You and me both, buddy. Who helped you become the player you are?
My dad is a fierce competitor and brought me up the same way; without him I wouldn't have the competitive drive that is necessary to win. Brian Stewart and I started at the local tournament level and really pushed each other to become better, so I attribute a lot of my fundamental paintball skill to that relationship. I really looked up to a few players on Image (sadly, most paintball players today don't even know about this team) during my Amateur years like LD, Lane Wright, Opie Thomas, LB, and Rob Staudinger. I believe watching that team created my aggressive playing style. It was Rob who brought me and the rest of Trauma to the Pro ranks and taught us how to play as a team. And believe it or not even you, Baca, taught me a few things. Specifically, you taught me how to think much more analytically about breakouts, shooting lanes, and risk-taking which has helped me become a better coach. So, thanks to all you people!
6. Who are your favorite paintball players?
My favorite players of all-time are Opie Thomas, Richie Maliszewski, and Billy Ceranski.
7. What's your best paintball experience or memory?
My favorite paintball memory of all-time is a three way tie between 2001 World Cup, 2002 World Cup, and 2005 World Cup. 2001 was Trauma's first national level victory as an Amateur team. We had moved from Am-B to Am-A mid season and were not expected to do as well as we did. 2002 World Cup was Trauma's last event as an Amateur team. We won the event, capping off our unprecedented 6-wins-in-a-row and guaranteeing our spot in the pro ranks. 2005 World Cup was Trauma's first win as a Pro team. All 3 were the result of a whole lot of work and sacrifice by everyone on the team. The more work you put in, the better the victories feel.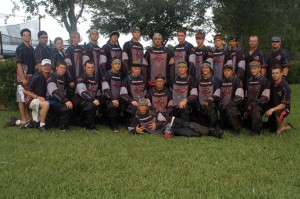 8. What's the most ridiculous thing you've done in order to play paintball?
I remember the first World Cup I played in, back in 1999. I didn't have enough money for a plane ticket, so I hitched a ride in the bed of a pick-up truck and rode there and back (13 hours each way). It was snowing on the way back, but it didn't matter at the time.
9. What advice would you give a new player who hopes to one day play pro?
To become a pro player, you MUST:
a. Check your ego at the door, you are not as good as you think you are, you are only as good as the work you put in.
b. Learn from people that have done it before you.
c. Be a leader! Be early for practice and don't leave until all the work is done. Do your homework at practices and events. Encourage your teammates and stay upbeat even after a loss.
d. Be a competitor. There are two types of people: those that don't want the ball during the last few seconds of the match, and those that do. If you aren't the type of person that wants to be on the field when it really counts and your team is depending on you, you will never make it.
10. I remember the photo of you in the ballerina outfit. Very becoming. Did you ever consider, I don't know, dressing up like a cheerleader?
It was actually a one piece women's swimsuit from a Wal-Mart in Honolulu. I was about to grapple with a Gracie brother and needed some type of distraction. In the end, it didn't help. Seriously though, paintball has provided me so many opportunities: I have met so many life-long friends along the way and been to so many different cities and countries that I normally wouldn't have been able to see. I appreciate everything that my sponsors have given me over the years and all the people I've met. I hope I can give back to the sport and help others realize the same dream that I've lived.
Thanks, T, nicely done and I appreciate the props. You'll take a check, right?
Baca Loco brings quality insight to Paintball players and coaches alike, check his blog out @ VFTB