I got a few emails from readers that wanted me to interview Mike so I sent him a quick message asking if he would be interested, and was pretty stoked on how quickly he agreed to answer some questions for us here at Propaintball.com
Name: Mike McCormick, 20 years young.
Hometown: Born in London, Ontario, Canada. Currently reside in Los Angeles.
Occupation: Ceritfied Pimp and water boy.
Previous Teams: Alter ego, Sinister, San Diego Aftermath, Assault, San Diego Dynasty.
Current Team: San Diego Dynasty.
Sponsors: Empire paintball, Guerrilla Air, Cp, Planet Eclipse, Rps, HHHk Army, And last but not least Oring Monkey.
Position: Mostly upfront, But I like to get different looks around the field.
Favorite Players: Id have to say Alex Goldman (aka Mouse) would be my favorite player. Hes helped me since day 1 at the Aftermath camp and Ive learned alot from him throughout the past few years.
JJ @ ProPb: When you aren't playing paintball, what are you most likely doing?
Mike: Working as much as I possibly can, Hanging out with my friends and family, And just living life. Making the best of it.
JJ @ ProPB: When did you first start playing paintball?
Mike: The first time I played Paintball was for a friends birthday party in early 2007 I believe. I dont think I shot anyone that whole day and called myself out on a few bounces, But have been hooked ever since. Haha.
JJ @ ProPB: When did you first start playing tournament paintball?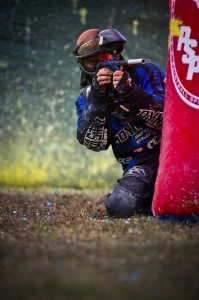 Mike: I want to say my first tournement was a local 3 man at Jungle Island Paintball Park. Had a few friends and some lunch money saved up, So we figured we try it out and see what happened.
JJ @ ProPB: Who do you look up to in the sport?
Mike: All the guys on my team, First and second. Anyone who just loves the sport and loves to play it.
JJ @ ProPB: What does playing paintball mean to you?
Mike: Paintball means everything to me, Let me travel the world, Taste different foods, And meet some of the coolest people Ive ever met. Without it I cant say where id be today.
JJ @ ProPB: What is your most memorable paintball experience?
Mike: Most memorable experience would have to be making team Dynasty and given a shot at the pro ranks.
JJ @ ProPB: I got the opportunity to play alongside Alex Fraige, Oliver Lang and Ryan Greenspan at the NPPL allstar game this year and needless to say I was pretty star struck.. What's it like playing on a team with such amazing talent and players that you've grown up watching and admiring?
Mike: Its an experience and a half. Never thought Id get the chance to step on the field with these guys but Im glad It happened and Im thankful for it all.
JJ @ ProPB: What is Hinman really like?
Mike: Haha, Good one. I mean I'd consider Mike one of my good friends, Hes a great coach, and a good guy. Hes taken me from nothing to something and always had my back, Has his crazy times like we all do but all in all he puts his pants on the same as I do each morning.
JJ @ ProPB: What are your goals for next season?
Mike: My goals are to contiune to play for team Dynasty in the 2012 season and just play paintball. Do what I love to do. Win.
JJ @ ProPB: Do you have any advice for up and comers looking to play pro?
Mike: Just play paintball, Best advice I can give. Play paintball and work hard at it. You think your working hard already, Work harder. Dont talk about it, Be about it.
JJ @ ProPB: What are you currently listening to on your ipod/computer/car?
Mike: Usually got some Wiz or Wayne playing, But Ill listen to anything really. Shoutout to Justin beiber, Nohomo. Your worldstar Hip Hop freestyle is ill.
JJ @ ProPB: Any shout-out's you wanna make?
Mike: First off, Those teachers who told me Id never be anything. Mr. Gonzales, TCHS Holler at ya boy. My parents, Hingeman, My team, Everyone whos supported me through the past few years. Love you all. 🙂