One of the most important, yet overlooked gear items in paintball is protective padding. Lets be real – over the years there has been no real innovation in this sector as it pertains to knee pads. Some have extra straps, some have cool designs or big name logos etc. The reality is most of the current offerings on the market are bulky, slip around, and are just plain uncomfortable during serious game-play.
The following review is based on my first hand experience wearing the HYDRA Knee Pads. This was not a one shot deal either – I put these pads to the ultimate test during three back to back weekends of serious paintball practice that culminated in competing at the National X-Ball League Event in Dallas, TX.
I have gone through many pairs of knee pads trying to find the right kind over the years, and never really found the right fit
However, after getting my hands on the new Hyrda Fit Black Knee Pads, I think my search can finally stop.
Hydra Fit is a small company based in Waxahachie, Texas. They make a line of paintball soft goods, and happen to be related to the highly popular Texas paintball training ground, which I am sure you are all familiar with, Paintball Fit. If you have not heard of it — make sure to look it up. Its no joke.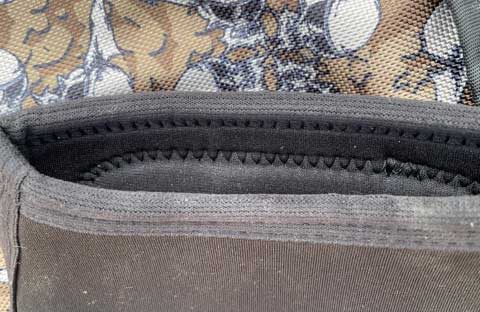 Upon picking up the pads we noticed that the stitching is was very well done. The production team utilized a 3-threads serging stitch, which is a stitch common in premium protective gear in order to secure the padded section to the brace wrap. This will help insure durability over the long haul. We didn't find any loose threads and the neoprene materials used in the protective padding feels soft against the skin and yet durable enough to hold up to regular impacts on the field.
Once we slid the HYDRA pads on, we noticed right away that they are snug and seemed super comfortable. The range of motion is great, and after a while, we forgot we were even wearing them. The parking lot fit is one thing, but what we all really care about is how they play. The big question is will the pads shift on us when we are slinging paint and trying to win the point.
As far as movement during gameplay is concerned – I did not see much shift. Now keep in mind that I am a back/mid insert player so my experience may be different from someone diving repeatedly into either the dorritos or the snake. After about 10 points on the X-ball field, the pads hadn't moved an inch. Usually by point two I need to adjust my knee pads at some point, but these guys held on for the ride. I did notice that the inside of the pad was pretty damp by mid-way through the day of play. In my experience with full protective pads that seems to be fairly common.
Between each day of play we made sure to wash the pads. Our process was a combination of warm water, mild detergent and then hang dry over night to insure they were ready for the next day. We recommend you wash all gear that contacts your body using the same procedure in order to prevent skin irritation and premature wear on your gear.
During our research leading up to writing of the review, we noticed that the Hydra website made a note about these pads add a level of compression (which helps with knee stability) that you won't normally find with paintball knee pads. During our field tests we confirmed that yes, they really do feel like you are locked in and knees properly braced when making cuts on the field. It is always nice when we find the marketing matches the end product experience.
As mentioned above the stitching is rock solid since they used a lock stitch pattern, which will help with any fraying, or stretching of the elastic. The addition of their "Hydra Skin" material also helps with durability by shielding against cuts or punctures. While that is not something we worry much about on the tournament fields — that is a very real concern when playing woodsball or recreational paintball. You really never know where your going to have to drop to a knee to get that shot, or get to cover.
The HYDRA website claims the rear of the knee pad has 29% less material than most pads on the market, and that allows for increased flexibility, which is extremely important while playing. While we can attest to a light weight feel on the back of the knee, we can't quantify what that is. At the time of writing we did not have any tools to measure the difference between our DYE and EXALT paintball pads.
By the end of our practice set and paintball tournament, I was sold on these pads. The fit, comfort, and construction was exactly what I had been searching for over the years.
Overall if you are in the market for new knee pads, I wouldn't hesitate to give them a try.
The HYDRA Fit Paintball Knee Pads retail for reasonable $60.00 and can be found online at: Hydra.Fit. You can also check Amazon for Paintball Knee Pads