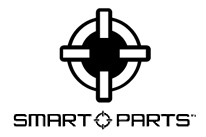 As a follow up to yesterdays paintball news update that Smart Parts had laid off employees, we have an official press release from the company with statements from former All American pro paintball player Adam Gardner.
Loyalhanna, PA – Sept. 03, 2009 – "The rumors of my death have been greathly exaggerated." This famous quote often attributed to Mark Twain is also applicable to Smart Parts, Inc. The manufacturer and distributor of paintball products, now in its 20th year of operation remains in business, despite internet rumors to the contrary.
Due to recent paintball industry contraction, wideley believed to be linked to current economic conditions, Smart Parts downsized, laying off a number of employees on September 2nd. This staffing change has resulted in fast-flowing and incorrect rumors.
"It was painful to do so." said company Vice-President Adam Gardener. "We are a family owned and operated business as well as a major employer in our community. Unfortunately current market conditions have forced this staff reduction upon us. The rumors that we have closed, gone into or are planning on going into bankruptcy, are completely false."
Smart Parts remains open for business, taking orders and shipping product as usual.
Smart Parts, Inc., is a leading developer and manufacturer of equipment and accessories for the sport of paintball. For more information, visit www.SmartParts.com.