A new paintball gun manufacture has surfaced on the paintball scene and taken the pump community by storm. Known officially as AVRATECH Industries Inc., the company has been focused on their debut pump paintball marker. Check out the AV R7 paintball gun: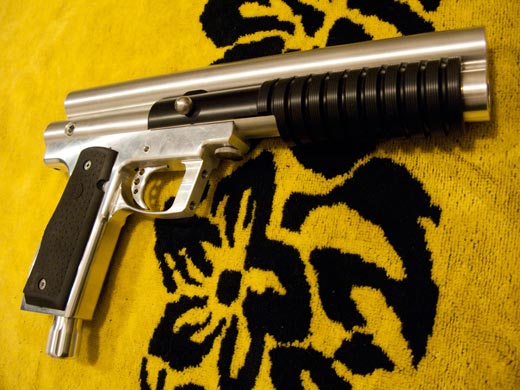 Inspired by the Nelspot 007, the AV-R7 is a very modern (and well modified) pump paintball gun that has been hand crafted in British Columbia, Canada. A bit of paintball history for you — the Nelspot 007 was the first gun used to play paintball. Originally the 007 had been designed to mark trees and was later adopted for use in a game of capture the flag. The "Retro 7" as it has become officially known, debuted on the mcarterbrown.com paintball community to critical acclaim and over 60 preorders were immediately placed.
Video introduction of the R7:
[youtube]https://www.youtube.com/watch?v=mF-j7JPp-fw[/youtube]
Features for the R7 paintball gun include:
Autococker threading!
Ambidextrous bolt action, compatible with nelspot pump handles, and both-side-cocking handles
All aluminum construction!
12 gram speed-changer in the grip, no external airlines in that configuration
External air ports on both sides!
Vertical ASA mounting, as well as ASA and stock mounting on the bottom of the frame
45 grip style so you can use all your cool grips!
Feed system takes "jam-feed" like a modified nelly, or you can use a cap
First Strike compatible breech!
NOT milled for light-weight! so it feels sort of like an original one. but better.
Stock barrel is .680 for no rollouts! (.675 available if you need extra tight control)
Accuratized internals (better spring seating), and hex-adjustable velocity
Compatible with many nelson parts
Loads of stainless steel inside!
Compatible with ALL phantom-style SC feeds
Takes standard trigger shoes!
Available freak-insert barrel option.
The guys at Avratech recently had a boxing party to celebrate the guns release. As you will see from the video, Avratech has definitely taken a different style in marketing their equipment. Cheers guys!
[youtube]https://www.youtube.com/watch?v=CZPxXBbCG3s[/youtube]
For more information, be sure to check the AV-R7 thread in the Mcarterbrown.com forum.