Empire Paintball has announced the launch of their new paintball gear line. According to ProPaintball insiders, the new Empire products and specifically the Empire LTD Gear product line and Empire Contact Gear have been designed by pro paintball players to have all of the features desired by the most demanding players. ProPaintball insiders speculate that Los Angeles Infamous and San Diego Dynasty will debut this new paintball gear at the upcoming PSP World Cup and NPPL Las Vegas Championship.
Here are a few highlights from the Empire LTD Series of paintball gear.
New Empire LTD TW Paintball Pant:
Self-contouring hip-slider pads for the ultimate in comfort and protection. Make your bunker without fear!
1080D Nylon reinforced dual-density knee padding – the most technically advanced knee pads in a paintball pant anywhere.
Groin padding. If you have to ask, you probably don't play.
Breathable mesh interior liner and plenty of ventilation – it's like having air-conditioned pants!
Padded lumbar panel for added comfort while wearing a harness. Your harness stays in place even while you're running and sliding, and your pods won't give you a spinal tap ever again.
Built-in microfiber cloth for cleaning goggles: look good and stay clean!
Armored, padded, water and dirt-resistant zipper tucks – no more ball breaks on your zippers taking you out of that $10,000 game!
Available in sizes: SM, MD, LG, XL, 2XL
Additional Colors-Tan, Black, Glass Red, Glass Black, ZZ White
New Empire LTD TW Paintball Jersey
Engineered mesh panels provide passive cooling while keeping the jersey light and comfortable
Strategically-located padded nylon slider forearms for the ultimate protection during sliding and crawling. Get into the snake or hit that corner with confidence, not fear of turf burns or scrapes.
Fully articulated elbow padding to defend against bounces and protect you when diving or sliding.
Clarino™ leather thumbhole loops keep the jersey's sleeves where they belong, add protection and even allow for spray and splatter removal from goggle lenses!
Available in sizes: SM, MD, LG, XL, 2XL, and 3XL
Additional Colors-Tan, Black, Glass Red, Glass Black, ZZ White
Empire Contact Zero Paintball Pants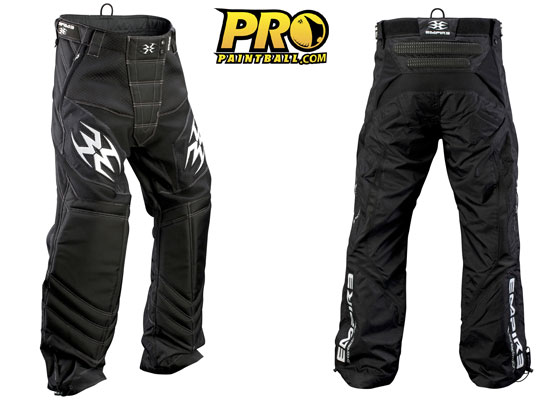 Advanced hip padding protects the waist and hips when sliding out to the corners
Pre-curved, dual-density knee and shin padding to help you get down and back up again
Wide belt loops- keep your pants where you want them or just make a fashion statement!
Adjustable ankle cuffs, because no two players are the same height
Plenty of ventilation to ensure cool air flows in and hot, sweaty air flows out
Groin padding: you're welcome.
Swab pockets.
Microfiber cloth on a bungee cord inside the pocket for cleaning goggle lenses!
Available in sizes: SM, MD, LG, XL, 2XL, 3XL, and 4XL.
Available in Black only.
This new paintball gear looks to be both well ventilated and extremely durable. Look forward to a full review from ProPaintball.com.
Empire Paintball is a sponsor of San Diego Dynasty, Los Angeles Infamous, and ProPaintball.com.