The American Paintball Players Association (APPA) has unveiled a new paintball website for 2012. Available now via paintball-players.org, the new paintball website features a refined interface and ten new features to improve your paintball experience.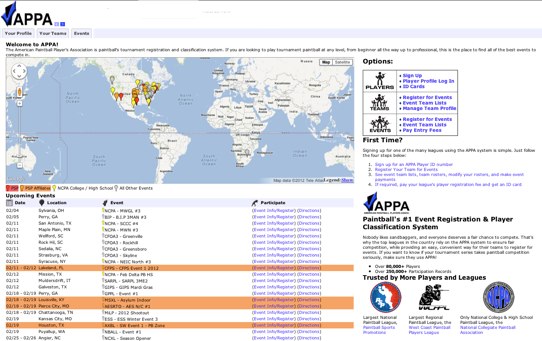 We caught up with Chris Raehl and Joe Rieger of the APPA for an inside look at the new features on Paintball-Players.org. Here is a first look at the new features;
We have shed our 1997 HTML2.0 look for a nice yet functional new layout.
New "quick links" section in the left sidebar to get you where you need to go.
Everyone can pick a username and use that to log in to their profile
No more team logins; your teams are paired with your player profile and you use your player login for both.
You can add additional players to be team owners, or if you want them to have restricted access, make them team managers only so they can sign your team up and manage rosters but you can take away their privs later if you want.
No more remembering ID numbers of your players – your team pages now include member lists, which include all the players who have ever played for your team.  You can remove and add players to your team member list.
Brand new team registration and roster pages – add players from any of the teams you manage to your roster with a single mouse click; roster pages are also much easier to read and include player photos and ages.
New Season Entry and Pick-Up team options for leagues; allowing you to pay for a full season at once, or pay for an event as a single player and be paired up with other pick-up players on a team.
RaceTo-2 scoreboards are a bit more intuitive with each set of three scores lined up in a column.
New player badges for PbN so you can show (and you can know other posters') APPA class.
We are digging the refinements and usability improvements, especially the team history/player id's and the ability to login with a username rather than a string of numbers. Thumbs up to Chris and Joe on the new paintball website!