The event of the year that every player waits for from the moment the previous seasons Cup ends. One full week of everything paintball has to offer, on the grounds of the "Happiest Place on Earth." Spanning a Wednesday-Sunday of the never ending emotional roller coaster that every player rides, this event is by far, the best. This year we look forward to the much anticipated PSP Webcast by Matty Marshall.
To start things off: Brandon Mayo (returning from duty with the armed forces) was set to play with X-Factor for World Cup 2008, unfortunately for them, he decided not to show up last minute. What a bummer!
Read on for the final scores, drama and learned who came out on top at the paintball world cup.
Wednesday's NXL World Cup Qualifier Scores
Infamous 6 vs. Aftershock 3
Damage 8 vs. Impact 3
Naughty Dogs 5 vs. Infamous 9
Aftershock 3 vs. Damage 9
Impact 8 vs. Naughty Dogs 6
Thursdays's NXL World Cup Qualifier Scores
Naughty Dogs 8 vs. Aftershock 3
Impact 4 vs. Infamous 7
Damage 7 vs. Naughty Dogs 6
Aftershock 4 vs. Impact 9
Infamous 9 vs. Damage 6
After the amazing run from Tampa Bay Damage just hours from their homes, they came upon a speed bump: Infamous! The boys from California came to Florida to put the hate on just about anything and anyone on the other side of their guns.
Our team at World Cup came across both new, and clearly amazing loaders – have a look for yourself..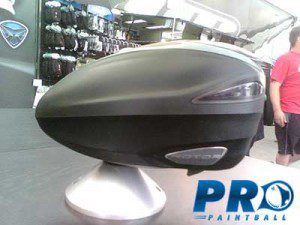 When the qualifying had relegated that a few teams pack their bags, three teams were left to fight it out with the seasons top seeds.
Top 5 Qualifying Teams for World Cup
1st – Dynasty
2nd – Ironmen
3rd – Legion
4th – X-Factor
5th – Americans
6th – Infamous
7th – Damage
8th – Impact
FRIDAY
We witnessed the biggest upset of the weekend. Dynasty showed up late, and packed up early – Impact gave them everything they had and beat them in two matches 6-5 & 7-6.
Another team with an amazing run in their first season, as well as an amazing showing in the World Cup Qualifiers the previous two days got knocked out after a strong run. Ironmen defeated Damage in the best of two matches 6-4 & 6-3
The third anticipated match of the day was between the 'Ol boys on Infamous and the KGB's best – Russian Legion. Not only did Russian Legion take it to Infamous, they beat them so badly, they practically packed their bags – two short lived matches 9-2 & 9-3
Finally, the highlight of the afternoon was between the Philly American's and X-Factor. The only match up of the the day that went to three matches: First, Americans 9-5; The second match went into overtime after the most dramatic final 5 minutes of the entire weekend: X-Factor 7-6. Finally, the third match of the series showed struggles from both teams. Philly started with a 6-1 lead at the half, but that did not stun X-Factor's fight back. Before the fuel burnt out X-Factor made it a close match, eventually the Americans prevailed 8-6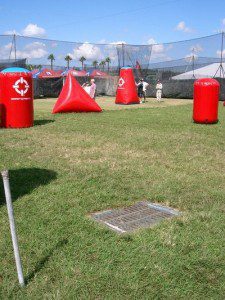 Activision's NPPL Breakout 2009 Official Trailer. Official release date has been pushed back to the week after NPPL San Diego, official demo will take place at the event.
Saturday
NXL Semi-Finals have come down to this:
Impact vs. Ironmen & Russian Legion vs. Philly Americans – the Cold War revival. Both teams stayed alive for 3 intense matches. Impact lost the first game, but came back to win in the second. In the third match they just managed to get themselves demolished, scores do prove it.
G1 – Ironmen 5 vs Impact 4
G1 – Americans 6 vs Russians 5
G2 – Impact 7 vs Ironmen 6
G2 – Russians 9 vs Americans 3
G3 – Ironmen 9 vs. Impact 0
G3 – Russians 7 vs. Americans 8
This weekend Bob Long released a new scenario gun, more of a machine gun, literally. Same weight as an M16, and the Military has plans of utilizing it in live exercizes. It features Marq internals inside of an M16 Carbine body, a detachable stock, and capable of barrel upgrades..can you say NXL mode on big game day??
Millennium Series Organizers held a secret meeting Friday night. For the 2009 year they will require all gun manufactures to be financial sponsors of the league for players to use the companies markers. This comes to us from a very trusted insider. Updates forthcoming..
In Division 1 today Vicious came out strong with 7-0 and 7-4 finishes. Tomorrow they will play for 1st and 2nd tomorrow against Palm Beach Vipers. Apparently Troll has it out for Mouse, but we'll have to see if his boys on PBV have what it takes to beat Raney, Mouse and Pauley's Vicious.
SUNDAY
The final day of our coverage and its come down to four teams in the top two: Ironmen, Philly Americans, Vicious and Palm Beach Vipers. In the Vicious PBV match, Troll got a major at 90 seconds, and Mouse got one at 85 seconds. Mouse's major was pushed aside as Troll's turned into a point for Vicious. Vicious playing with 4 bodies seemed unphased and managed to smash Palm Beach seemingly take home the first place.
Ironmen defeated the Philly Americans and became back to back NXL Season 2008 & 2009 Champions!
World Cup 2008 Results
Ironmen
Vicious
Fierce
Fierce Army
World Cup Qualifying Round / NXL Field Layout 1
Round Robin – Top Three Teams Advance for the 6th – 8th spots
(Rank 06, 07, 08, 09, 10) Infamous, Damage, N. Dogs, Impact, Aftershock
Days 1-2, Wed. Oct 22nd – Thur. Oct 23rd (Qualifying Round)
*1v5, 2v4, 3v1, 5v2, 4v3, 3v5, 4v1, 2v3, 5v4, 1v2*
1v5 – Wed. 09:00am – Infamous (6) vs. Aftershock (3)
2v4 – Wed. 10:00am – Damage (8) vs. Impact (3)
3v1 – Wed. 12:00pm – N. Dogs (5) vs. Infamous (9)
5v2 – Wed. 01:00pm – Aftershock (3) vs. Damage (9)
4v3 – Wed. 03:00pm – Impact (8) vs. N. Dogs (6)
3v5 – Thu. 09:00am – N. Dogs (8) vs. Aftershock (3)
4v1 – Thu. 10:00am – Impact (4) vs. Infamous (7)
2v3 – Thu. 12:00pm – Damage (7) vs. N. Dogs (6)
5v4 – Thu. 01:00pm – Aftershock (4) vs. Impact (9)
1v2 – Thu. 03:00pm – Infamous (9) vs. Damage (6)
World Cup Prelim Round / NXL Field Layout 2
Best of 3 Games 1v8, 2v7, 3v6, 4v5
Bracket 1 – (Rank 01, 08) Dynasty vs. Impact
Bracket 2 – (Rank 02, 07) Ironmen vs.Damage
Bracket 3 – (Rank 03, 06) Legion vs. Infamous
Bracket 4 – (Rank 04, 05) X-Factor vs. Americans
Day 3, Fri. Oct 24th (Prelim Rounds)
(G1) Fri. 08:00am – Dynasty (5) vs. Impact (6)
(G1) Fri. 09:00am – Ironmen (6) vs. Damage (4)
(G1) Fri. 10:00am – Legion (9) vs. Infamous (2)
(G1) Fri. 11:00am – X-Factor (5) vs. Americans (9)
(G2) Fri. 12:30pm – Dynasty (6) vs. Impact (7)
(G2) Fri. 01:30pm – Ironmen (6) vs. Damage (3)
(G2) Fri. 02:30pm – Legion (9) vs. Infamous (3)
(G2) Fri. 03:30pm – X-Factor (7) vs. Americans (6) OT Game
Game 3 – If Needed
(G3) Fri. 05:00pm – Dynasty vs. Impact (not needed)
(G3) Fri. 06:00pm – Ironmen vs. Damage (not needed)
(G3) Sat. 08:00am – Legion vs. Infamous (not needed)
(G3) Sat. 09:00am – X-Factor (6) vs. Americans (8)
World Cup Quarter Round / NXL Field Layout 2
Best of 3 Games 1v4, 2v3
Day 4, Sat. Oct 25th (Quarter Rounds)
(G1) Sat. 10:00am – Ironmen (5) vs. Impact (4)
(G1) Sat. 11:00am – Legion (5) vs. Americans (6)
(G2) Sat. 01:00pm – Ironmen (6) vs. Impact (7) OT Game
(G2) Sat. 02:00pm – Legion (9) vs. Americans (3)
(G3) Sat. 04:00pm – Ironmen (9) vs. Impact (0)
(G3) Sat. 05:00pm – Legion (7) vs. Americans (8) OT Game
World Cup Finals / NXL Field Layout 2
Best of 3 Games 1v2
Day 5, Sun. Oct 26th (Finals)
(G1) Sun. 10:00am – Ironmen (9) vs. Americans (2)
(G2) Sun. 01:00pm – Ironmen (7) vs. Americans (8)
(G3) Sun. 04:00pm – Ironmen (9) vs. Americans (4)
WORLD CUP WINNER: LOS ANGELES IRONMEN
Here is a behind the scenes look from the PSP Live Webcast from 2008 World Cup