Empire Paintball is running two contests/giveaways for free paintball gear. Players that enter into the Empire Paintball contests will be eligible to win a combination of prizes. Winners will receive a package of free paintball gear that may include Empire Prophecy Z2 Paintball loaders, Empire AXE Paintball guns, or Empire T-Shirts.
There will be several winners selected in these contests. As such, the odds are definitely in your favor to win some free paintball gear.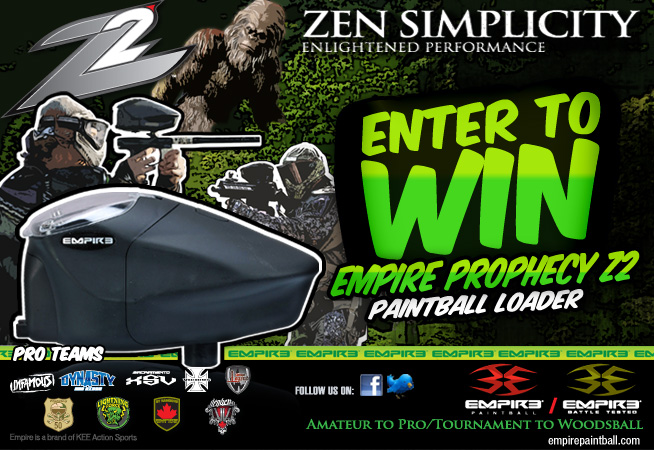 How to win Free Paintball Gear:
1st Promotion Details

Step #1: Click on the Z2 Promotion page to "LIKE" Empire Facebook and enter your e-mail address.

Step #2: This will automatically enter you to win the new Empire Prophecy Z2 loader. Three winners will be announced on November 23rd.

2nd Promotion Details

Step #3: After you complete Step #1 and Step #2, you will receive a response e-mail from Empire Paintball with detailed instructions on how one person will be selected to WIN both an AXE paintball marker and a Prophecy Z2 loader by travelling to your local paintball field or store to take a picture of yourself with both the AXE and Z2 and how to upload your image to enter to win.

All promotional winners will be announced by Empire Paintball on November 23rd.

Dates of Promotion
October 14th through November 22nd , 2012
What are you waiting for? Hurry up and enter already! This is an opportunity you won't want to miss.