The following is a guest article by Tim Cerruti, formerly of Scottsdale Elevation. Tim had the opportunity to be at Capital Edge Paintball Park over the weekend and witnessed the WCPPL warm up event hosted by pro paintball player Dave Baines. Read on for the event review, photos, and event results.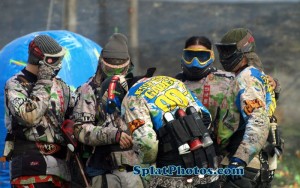 The forecast for the 23rd of January was clear skies, which would have been a pleasant break from the previous 5 days of rain Northern California has been getting.  But as everyone who drove to the event noticed that it was not as clear as it was supposed to be.  However the weather conditions did not stop the Bay Area Gorillas, Armed Forces, Gladiators, and Fuzion who showed up for the West Coast Paintball Players League Warm-Up at Capital Edge Paintball Park in Sacramento. The teams came for the 1st place prize of entry to the 2010 WCPPL event of their choice. The "Race 2" 2 format played out for some interesting matches with many of them going to the 3rd point. There was some good divisional paintball being played, with a huge upset in finals where the Bay Area Gorillas came back after losing their first point to local favorites Fuzion. The games went smoothly and we had our result by lunch thanks to the very efficient Dave Bains of Russian Legion who head reffed the field.  Players also commented on how they liked the new Race 2 format.
The final results were:
1st Bay Area Gorillas
2nd Fuzion
3rd Armed Force
4th Gladiators
The CEPP paintball photos of the WCPPL event can be found at SplatPhotos.com.