WCPPL Event #4 labeled the "ASG Open" will be held at the Action Star Games (Private Field/Training Facility) in Bloomington, CA – Sep 12th and 13th (Sat & Sun) will prove to be an even bigger and better blockbuster (also introducing 4-Man Open Division Pump). Registration doesn't close until September 9th so there is still time to get your team organized and registered. Among others, Chrono300, Make it to Sunday, 1GR Photography and Pro Paintball dot Com will be there to feed the players vanity and lust for immortalized still frames and video.
So what teams will…
Step it up and,
Stop the competition to
Be crowned the next champions?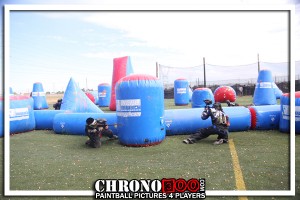 The competition in all of the 7-Man divisions has been tough nail biting action from start to finish. So every kill, every man alive, every pull, every hang, and every penalty makes the difference between being top seeded all the way to not making it to Sunday. Not to mention, the margin of points between the teams that do make to Sunday and those who do not has been by the hair of my chiny chin chin. So go all out or go home!
Here are the returning 7-Man champs defending their crowns by division from Event 3:
Division 2 – Surge
Division 3 – San Diego Mob
Division 4 – LA Onslaught
Last but definitely not least is one of the exciting offshoots and what I see as becoming a mainstay in WCPPL is the introduction of a "Pump Division".  The WCPPL in Event 4 is offering a 4-Man Open Pump Division which is bringing out some of the elite pump teams in California like Brick, Charlie Fox Crew, Chikun Nuggetz, Evil Intent, Gat Product, LA Hitmen, and more as the end of registration draws near.  Who will take the introductory crown and become top dog?  Not sure, but it will be great to see them all get to work in what will prove to be a high stakes fast pace slug fest.
Spectators are definitely welcomed to come out.  So bring your canopies, chairs, coolers, cameras, and enthusiasm because you will surely be blown away by the intense competition and smooth precision of the event hosted by Mike Hinman, Aftermath, and Staff Members.
By the way, when you see Mike and Jessica Hinman, be sure to congratulate them on their new addition to the family, Colin Mason Hinman.
For further information, please see WCPPL.com.
Pictures are courtesy of 1GRPhotography and Chrono300