Another great event of the WCPPL series was held at Action Star Games paintball field this past weekend in Bloomington, CA. Those who braved the fields were greeted with a hot hot Saturday that was followed by a much cooler Sunday. Apparently weather gods DO smile on paintball players from time to time! The WCPPL (West Coast Paintball Players League) for those who do not know, is a California based league that offers teams over $30,000.00 in CASH prizes for winning events. Highlights from the prize packages include the D2 bracket, which awards $6,000 to the first place team and DLX Luxe markers for series winners.
Read on as we revisit one of the best paintball events of the year.
Another reason that teams play in the league is the reffing provided by Mike Hinman's San Diego Aftermath. Using some of the most seasoned professional paintball players in the world, Mike is able to maintain a top notch ref team that really knows all of the ins and outs of the game. This is one of the few events where you will find teams thanking the judges after the games!
As an added bonus, the series went the extra mile and brought in paint via a temperature controlled paint truck. While the series is technically BYOP, savvy teams took advantage of the cold (read:brittle) paint that gave them an edge on the field. ProCaps was on location serving up their Draxxus Gold and Silver paintballs and nearly every team on the podium used this paint to win.
All in all, the event was a success with little controversy. We look forward to Mike's next event and final of the season at the all new Camp Pendleton tournament field!
We would like to congratulate IB Showtime for their first win as a team. The competition was fierce in the division 2 bracket as teams competed for the large cash prize. After a 3 game set, IB Showtime knocked the previously undefeated SURGE out for a first place finish. Congratulations Showtime!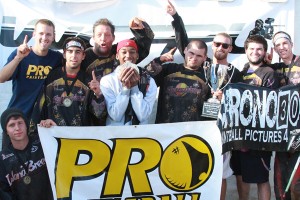 Photo by Chrono300
Event #4 Results:
Divison 2-

IB Showtime
Surge
Fuzion
Mikey & the Hitmen
Division 3-
SCP Edge
SD Mob
Rockstar Wrecking Crew
LVPP Allstars
Pump Division-
Asian Boyz
Those Pump Guyz
Brick
Evil Intent