S.C. Village, one of the oldest and most well-known paintball facilities in the world just hosted the 2nd event in the West Coast Paintball Players League. The atmosphere was thick with competition and everyone there had zero interest in being sent home early and striving to be unbeatable and bring home some metal, trophies, and thousands of dollars in cash prizes.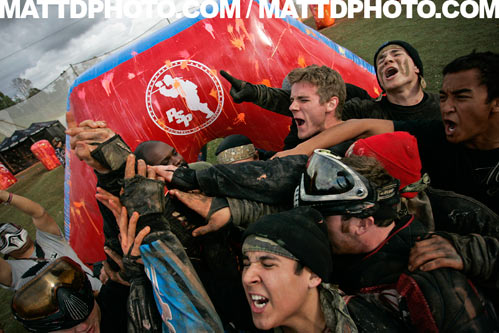 The games were hard fought throughout the weekend as players and teams sought to earn the highly sought after cash and prize packages in their respected divisions. All of the divisions featured very close match-ups. The major difference between the WCPPL and other regional leagues is the level of intensity at which the games are played. Even Early Saturday morning all of the games that I watched were epic battles which made each and every game interesting to watch. The action would develop as the games would progress. There were huge upsets, comebacks, and flawless victories over the weekend. Through an interesting twist of events, WCPPL event #1 winner Nu-skool University and Fuzion who were favored to finish on top in D2 were knocked out early by hungrier teams like Island Breed, Hitmen, and Davis Ambush. These teams all looked and played their hearts out, eager to prove that they deserved more respect than they had gotten in the previous event in Oceanside. A clear solid performance all weekend by San Diego MOB who came out swinging in every match they played only for Hitmen to fight back with their back against the wall a for a great finish to become the champions of the event at S.C. Village. The whole event was run extremely well thanks to Mike Hinman and the Aftermath paintball program for running, managing, and reffing throughout the long weekend. The whole paintball community owes these people a great debt for the time, money, and energy that they put in to help further and promote the sport. Thank you.
DIVISION 2 "Premier"
LA Hitmen
San Diego Mob
Davis Ambush
Island Breed
DIVISION 3 "Intermediate"
Notorious
Fuzion (209)
SCP Edge Black
LB Effects
DIVISION 4 "Rookie"
Vanquish Mob
Fuzion (707)
SLC Tombstone
Sinister Faction
PUMP "Open Division"
Check it Factory – NV-1
Xandata
LA Hitmen
Order of 7
YOUNG GUNS
By The Balls
Soggy Waffles
Korrupt Kids
LA Suicide Kids – Blue
For more information on the WCPPL please see the leagues official site at WCPPL.com.
This article was written by Tim Cerruiti. Tim competes in the premier division of the WCPPL with team Fuzion from Northern California.