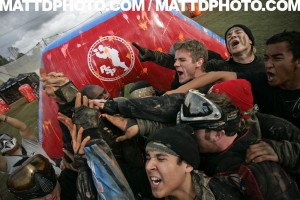 Over the weekend Southern California players and teams had their opportunity to experience X-ball in a professionally run regional event. Jessica and Mike Hinman ran one of the most impressive paintball events we have attended in a long time. For the last decade, local x-ball teams have
been seemingly non-existent in Southern California. With that in mind, we are proud to report that over 76 regional teams showed up to compete in the Race-To (aka X-ball) format. Congratulations to the teams, players and fans that battled both the nasty weather and the opposing teams at the WCPPL Event 1 Race-To held at Camp Pendleton Paintball Park. Special thanks to Lane Wright from the PSP, Chris Raehl from the APPA, and PSP head referee Tim Schroepfer for helping insure that the event ran smoothly. Without further ado, here are the WCPPL Event 1 Results:
Premier Division:
NuSkool Wrecking Crew
San Diego Mob
Fuzion
LA Hitmen
Division 3:
Notorious
TAG
CriticalPaintball.com
SCP Edge
Division 4:
Tombstone
Grizzly City Mob
Degenerates
Golden State Blind Pirates
Pump Division:
Check-it Factory V2
Check-it Factory NV-1
LA Hitmen
Those Pump Guyz
Stay tuned for additional coverage and photographs from PROpaintball.com later this week.