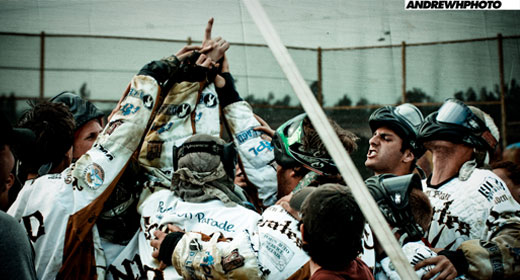 WCPPL Event 1, day 2
Sunday March 3, 2011 hosted the finals of the first event of the WCPPL at S.C. Village. Sunday was full of upsets and comebacks, big plays and moves, fun and excitement.  Team GAT with huge upsets against teams favored to win and ended up beating Golden State Pirates and San Diego Mob for their first place finish. The end of the prelims also had some big wins by Posopaintball.com with their famous "eyes behind the gun technique" and Team GAT coming from behind with two early losses to come in and take the whole the event and the $5,000 first place cash prize. You can check out the scores below.
Finals
Semi-Finals
Prelims
D3 was also exciting with the top seeded teams getting knocked out early in the first round of finals. During the finals match in division 3, DBS Kids  made a huge comeback from behind 0-3 against Royalty to win the match 4-3 (The APPA score doesn't reflect the real score). Elusive II also came out strong against favored LVPP.net in the first round of quarter finals but would later be beaten by Royalty.  Check out the scores.
Finals
Semi-Finals
Quarter-Finals
D4 with its new race-2 format was also a great watch with Fuzion 916 taking first, eLusive dtp taking second, and Fuzion 415 taking third. All of D4's games were played on Sunday so a lot of paintball was played. Palm Beach Venom and Fuzion 916 went undefeated through preliminaries.
Finals
Semi-Finals
Quarter-Finals
Prelims
The weekend was filled with great paintball and great teams. The reffing was nothing short of phenomenal and a special thank you to Mike & Jessica Hinman, the refs, and the WCPPL for putting on and keeping going one of the best series that paintball has to offer. Make sure to check in with pbnation.com's WCPPL forum to watch for the new media coverage from the first paintball event of the year.