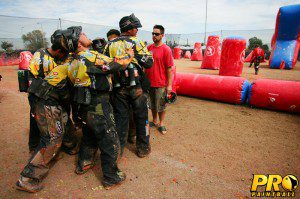 The battle between XSV and Vicious is on! XSV took the first four points by eliminating players off the break and pressing their advantage. VICIOUS looks like they are having a rough day, team members are continually getting shot out of their bunkers. In game 4, Greg Paulie tried to move down the dorrito side to spread the field and was shot down on the run. GP calls a timeout for VICIOUS.
Game 5, VICIOUS comes out guns blazing and take control of the field. Off the break, vicious shoots out Thomas Taylor from the snake side, and on the opposite side of the field they shoot out an XSV dorrito player and push into XSV territory within the first 10 seconds of the game to finish XSV off. VICIOUS is now on the scoreboard, 1-4 with XSV leading the way. VICIOUS takes game 6 with a similiar move, pushing down dorrito side and center of the field. Vicious 2, XSV 4, 6 minutes left. VICIOUS knows they need 2 points to bring themselves back in the game, you can see the players putting a ton of paint in the air and forcing Troll and the rest of XSV to stay in their bunkers. XSV is staying alive and trying to run the clock, only 3 minutes to go. One of the XSV players on the snake side was shot out of his bunker, followed up with Junior Brown's elimination from the dorrito side allowed VICIOUS to run down the field and take the point. XSV calls a time out as the score tightens up with only a one point margin between the teams.
In game 7, VICIOUS receives a minor off the break and loses a few players, the team concedes the point and leaves 1 minute, 4 seconds left on the clock. During game 8, VICIOUS comes out looking for blood with GP running down the snake side cleaning out the XSV players. XSV receives a major with under 1 minute left in the game and gives the point to VICIOUS. During the final point, Greg Paulie of VICIOUS makes a run for the flag and grabs it just as the match runs out of time.
Final Score: XSV (5), Vicious (4).