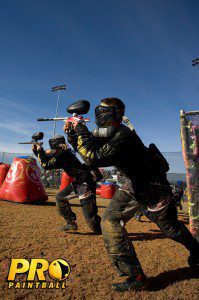 The newest PSP Pro paintball team, VICIOUS, is holding invitation-only tryouts for the 2010 season. This is an opportunity not to be missed, a chance to come through the ranks and prove yourself amongst professional paintball players. Do you have what it takes?
The VICIOUS organization has released a pretty straight forward guideline spelling out what they expect from potential players and a bit about the VICIOUS lifestyle.
Read on for the official details, sponsorship, and contact information.
For those of you unfamiliar, VICIOUS has not only been a top team in Semi-pro, but the divisional squads were also top contenders throughout the 2009 season winning multiple events and sealing the Division 2 Series Title.