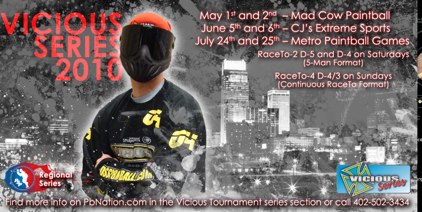 "The VICIOUS 2010 RaceTo Tournament Series is pleased to offer players yet again the very best in a regional tournament experience. With a history of fantastic events, the VICIOUS Series only looks to be even better than before in 2010. Each event in the VICIOUS Series is put on to mimic a PSP event, with air stations in the pit area, LCD monitors in each pit displaying game time and game score, as well as superb refereeing closely resembling what is seen on the Pro field at PSP events, provided by Team VICIOUS. The VICIOUS RaceTo Series for 2010 also gives teams the ability to play 1 event (RaceTo-2 on Saturday or RaceTo-4 on Sunday) or play both events Saturday and Sunday, making it a 2-day tournament experience.
Not only is the VICIOUS Series attempting to give players a taste of a PSP tournament at the regional level, but they're also sending 2 lucky teams to the PSP World Cup in 2010! The overall Series Champions in D4/3 RaceTo-4 and D4 RaceTo-2 will both receive trips to World Cup!
For more information teams should check out ViciousSeries.com.