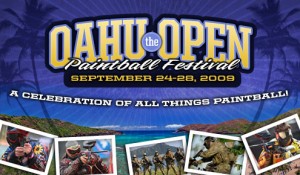 It's time to book your flights to Hawaii! The 2009 Oahu Open is setting to be an action packed week featuring everything from X-ball, 3-man championships, 1 on 1's, a big game, Mil-Sim and even Dodgeball. This event is surely going to be one you won't wanna miss!
The Oahu Open has moved its 2009 dates to Sept 24-28 2009.
Sept 24th will be a day for those who can come in early and enjoy some clinics from some well known pros and players who are experts in the areas to be covered.
Sept 25th and 26 will be air ball and MILSIM activities.
Sept 27 will be finals and a pro exhibition. One on ones, target shoots and dodgeball will be enjoyed all weekend long. The event will end with a large big game on Monday Sept 28th. 
This event also has its 2010 dates already set for long term marketing with partners. Many companies are interested in the paintball market and this is the first time an event took airball, MILSIM, big game and fun activities and placed them all in one place giving marketing partners total access to the entire paintball market.