Our friends over at Understood Paintball let us know that they have extended their sponsorship agreement with pro paintball team Sacramento XSV through 2010. Understood makes the GatWrap XL, a protective case for your paintball gun, and we highly recommend you check one out when you have a chance. As the old adage goes, "dont be a fool, wrap your tool!"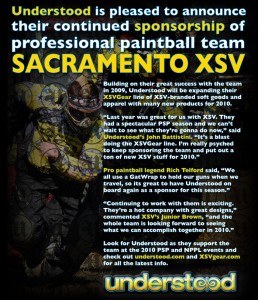 Understood is pleased to announce their continued sponsorship of professional paintball team SACRAMENTO XSV.
Building on their great success with the team in 2009, Understood will be expanding their XSVGear line of XSV-branded soft goods and apparel with many new products for 2010.
"Last year was great for us with XSV. They had a spectacular PSP season and we can't wait to see what they're gonna do now," said Understood's John Battistini. "It's a blast doing the XSVGear line. I'm really psyched to keep sponsoring the team and put out a ton of new XSV stuff for 2010."
Pro paintball legend Rich Telford said, "We all use a GatWrap to hold our guns when we travel, so its great to have Understood on board again as a sponsor for this season."
"Continuing to work with them is exciting. They're a hot company with great designs," commented XSV's Junior Brown, "and the whole team is looking forward to seeing what we can accomplish together in 2010."
Look for Understood as they support the team at the 2010 PSP and NPPL events and check out understood.com and XSVgear.com for all the latest info.
Note: Understood is a sponsor of Pro Paintball dot Com and makes it possible for us to deliver the latest paintball news. Please support our sponsors!