I find it hard to imagine a DYNASTY without Todd, his face and positive attitude has become synonymous with the team.

Has Todd decided its time to change things up and if so, where will he go next? Read on for the latest update.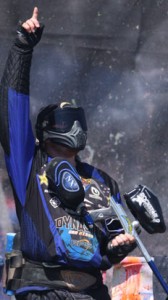 Ever since we announced that Archie from X-Factor would be joining DYNASTY, rumors have circulated that one of the team members would be leaving. Rumors have been flying that long time dyna-cat and marketing genius Todd Martinez may be looking to continue his career elsewhere. In typical PRO Paintball tradition, we've been looking to substantiate these rumors and get the inside scoop. Sources within the Dynasty camp have indicated that these are "just rumors", however, sources outside suggest that several teams have made offers to Todd in hopes that he will join their organization.
Will Todd continue his career with San Diego Dynasty or make a change up and keep things fresh? Sound off in the comments below!