Yahoo News is carrying a story today about evacuations taking place in the south east of Texas ahead of hurricane Ike. With NPPL Houston taking place next week one can only wonder how we will be effected.
HOUSTON – Authorities in the Houston area and along the Southeast Texas Gulf Coast ordered hundreds of thousands of people to evacuate Thursday as Ike bore down with hurricane-force winds that stretched across more than 200 miles and were expected to gain even more strength.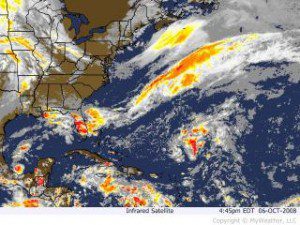 For those of you unfamiliar with the Texas area, Google has a satellite image of Houston and the Gulf for you to check out.
If current projections of the storm's path hold up, the area surrounding Houston — home to about 4 million people — would be lashed by the eastern or "dirty" side of the storm, said meteorologist Jeff Masters, co-founder of San Francisco-based Weather Underground. This stronger side of the storm often packs heavy rains, walloping storm surge and tornadoes.
"I expect a lot of damage in Houston from this storm," said Masters, adding that Ike could cause a "huge storm surge" affecting at least 100 miles of the Texas coast.
Will the event be rescheduled or will it turn into another logistical nightmare like Miami 05′? You can bet the folks at NPPL HQ are following the storms progress but one can only hope they are able to make a decision before everyone is airborne.. For storm veterans of Texas PSP and Miami 05 — feel free to share your advice for teams getting ready to enter the danger zone below.
Credit to Jon Millman for sending in the article