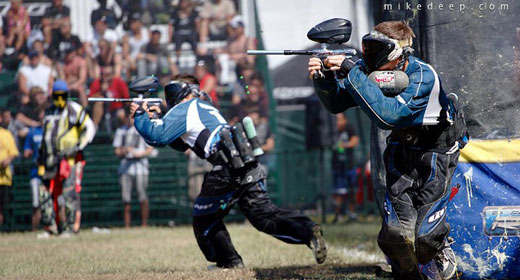 After an incredible weekend of over 120 teams and 20 vendors at the festival-styled PSP New Jersey event held behind TopGun Paintball Park, the new PSP Champion has been crowned! Tampa Bay Damage is now the Professional Champion after beating San Diego Dynasty with a score of 6-1 in the finals. Los Angeles Ironmen and Edmonton Impact placed 3rd and 4th respectively.
Thousands from all over the world watched the final games through the PSP's live webcast that was broadcasted for free from PSPEvents.com. If you missed a game or would like to watch one again, become a subscriber to the PSP's YouTube Page (click here – it is free and simple to do!) to receive an email notification each time a video from the event is uploaded. We will be uploading each game that was filmed on the main field!
We would like to thank all of the teams, fans, sponsors, vendors, crew and TopGun Paintball for an amazing event. We look forward to seeing each of you at the one we've all been waiting for… The PSP World Cup! World Cup, known globally as the largest and most significant event in paintball, will be held at Fantasy of Flight in Polk City, Florida October 20 – 23, 2011! Stay tuned to https://www.pspevents.com for more information!
Professional RaceTo-7
1st Tampa Bay Damage
2nd San Diego Dynasty
3rd Los Angeles Ironmen
4th Edmonton Impact
Division 1 RaceTo-5
1st upTon 187 cRew
2nd T1 Topgun Union
3rd Hurricanes
4th Assault
Division 2 RaceTo-5
1st Static
2nd Boom
3rd Distortion
4th Rhythm
Division 3 RaceTo-4
1st Team No Name
2nd Revo
3rd NCPA All-Stars
4th Boom II
Division 4 RaceTo-4
1st Revo II
2nd Central Florida Paintball
3rd North Texas Shockwave
4th NJ Jesters kids
Division 3 RaceTo-2
1st Plan B
2nd CRU LT
3rd Seek and Destroy
4th Richmond Rage
Division 4 RaceTo-2
1st CRU Army
2nd GSP All-Stars
3rd Edge Army II
4th Galveston Island Paintball