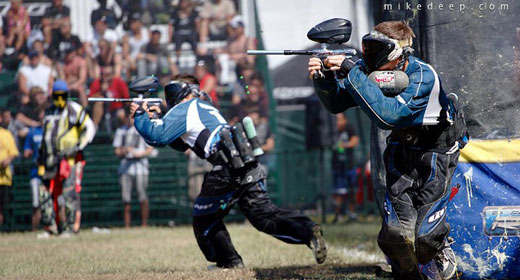 Tampa Bay Damage 2011 Tryouts
Tampa Bay Damage, the 2010 Pro Paintball Series Champions, have announced the team will be holding tryouts for the Damage 2011 pro paintball team. This is an amazing opportunity to play with some of the best players and coaches in the business.
We will be holding an invitation only tryout. To be invited, you will need to provide answers for the questions listed below. If I respond to your email, you will be given the date and time where to be for the tryout. If you cannot commit to practicing 3 weekends a month at Central Florida Paintball park, please do not apply. If you cannot make all 4 NPPL and 4 PSP events, please do not apply. You must have 1 year of national paintball experience and you must live in the state of Florida.
This is an opportunity to play with a top level, professional paintball team. It takes a lot of time and commitment. While we want to have fun, we also work hard to be the best. Please respect the requirements listed above. Do not apply if you cannot meet the time requirements.

Name
Age
Active APPA number
What position do you currently play?
What can you offer Tampa Bay Damage?

Please email your responses to Joey – [email protected]. Do not PM your responses. Your ability to follow directions is crucial.
It goes without saying that the spots are extremely limited. We suggest interested parties apply quickly for consideration. Best of luck!