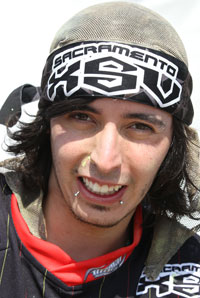 Over the last few seasons XSV has gone through some rough times. Rick Telford has been hard at work adding some veterans to the roster as well as some young kids new to the pro paintball ranks. Eddie Tomao is one of those new players. Eddie is VERY dedicated to becoming a top pro player and taking part in bringing XSV back to the top. At the Chicago NPPL event in May, Eddie helped XSV make the finals for the first time in the pro division since 2008.
Name: Eddie Tomao
Age: 21
Hometown: Motown baby!
Occupation: Paintball Store and Tattoo Shop Manager and Juniors personal assistant
Previous Teams: Rodents, Fuzion, San Francisco Explicit, OG Twisted Kids, Bad Karma, Alienpb.com, Nor Cal Kids, and a bunch of throw
Current Team: Sacramento XSV
Sponsors: Alien Paintball, Empire Paintball, RPS Paintballs, Ninja Paintball, Understood, Sly Paintball, Paintball X3, Techpb.com, Animal Paintball, Ballerscafe.com, RPL, and Paintballphotography.com
Position: Wherever Rich tells me to go which is usually up the gut or corner.
Favorite Pro Players: Bobby Aviles and Tyler Harmon because of their swag.