FOR IMMEDIATE RELEASE
Tadao Technologies Releases Ebisu USB G6R Intimidator Board
Raleigh, NC, November 1, 2010 – Tadao Technologies is pleased to announce the release of the new Ebisu Series USB G6R Intimidator board for the Bob Long G6R Intimidator. Like Tadao's earlier Ebisu USB Victory board, the new upgraded board uses a multicolor LED with a mini-B USB port that allows it to work with the Tengu USB interface.
According to Tadao's president, Will Roberson, "The new feature-rich Ebisu G6R board provides the user with the ultimate in adjustability and speed, plus the ease-of-use of the Tengu USB interface so you can update your board's firmware and modify settings from home or office. Pair this board with Bob Long's new G6R Intimidator marker, and you have a seriously competitive paintball machine."
The software is based on the Yakuza code without the OLED screen. Enhanced capabilities include 10 fire modes, 0.1 bps increments, adjustable auto power down, and zero power drain while turned off. 4C eyes are fully supported, showing an increase in speed of several balls per second, depending upon loader capabilities. The full feature list is available on Tadao's Ebisu USB G6R Intimidator board page.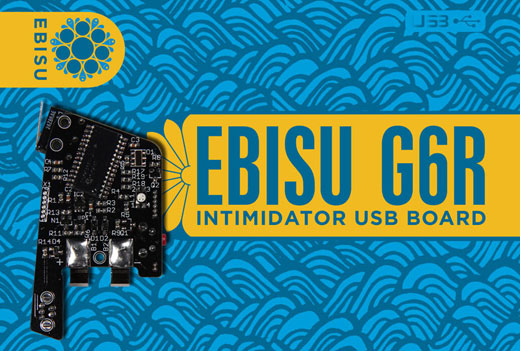 To answer the many inquiries about the availability of an OLED screen, Tadao does not plan to do a follow-up Yakuza USB OLED board for the G6R Intimidator. Given the new board shape and solenoid orientation, there is insufficient room for all the components required to run an OLED display. However, by offering full USB functionality for firmware updates and settings modification, combined with an RGB LED to show operating status and programming menu, Tadao has future-proofed the boards from league and industry changes.