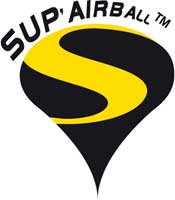 We received the following statement from Sup'Air regarding Ultimate Air patent. Lots of interesting details inside, read on for the latest.
"For over 5 days now, we have seen a lot of defamation and misleading claims all over the internet about Sup'AirBall and its parent company Adrenaline Games USA, and we want to set the record straight. We are the only inflatable paintball bunker manufacturer to attend over 15 major events per year. Over 20 leagues around the world have used our products for more than a decade and will continue to do so in 2010 and beyond.
Who we are
Sup'AirBall is the inventor of the inflatable paintball bunkers as you know them today, tubeless, stand alone, airtight. It was introduced first at the 7Man World Cup, in Toulouse, France, then at the World Cup in Orlando, Florida, in 1997, 3 years before Ultimate Airball® even existed. This is a fact, undeniable, and well documented: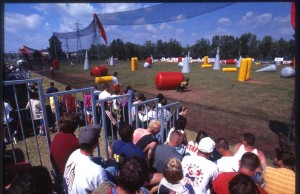 APG magazine, from march 1998, page 71.
The World Cup 1997 report. There is a picture of stand-alone Sup'AirBall bunkers and this text from Bill MILLS, writing the article: (Link to scan of article)
"Each year the National Professional Paintball League World Cup brings players from around the globe to see who comes out on top. Not only is the competition intense, but it is also the stage for unveiling of many new products and a meeting place for members of the paintball industry. 1997 was no exception, with new paintguns, sights, loaders, and even new fields.

Last year saw the American debut of Hyperball, an arena style paintball field with rounded pipe bunkers imported to the US by Brass Eagle. This year, Hyperball was back, accompanied by SupAir Ball. (…)"
PGI Magazine, July 1998, page 79.
Advertising from Extreme Rage, of Fort Myers, FL, showcasing a Sup'AirBall field, tubeless. Extreme Rage was at that time the official distributor of Sup'Air Ball.
PGI Magazine, page 31 and 33, as part of the Report on the 1997 World Cup.
Multiple pictures of Sup'AirBall bunkers, tubeless.
Warpig.com, Report of the 1997 World Cup.
Multiple pictures of Sup'AirBall bunkers, tubeless.
Adrenaline Games, more than meets the eyes
Adrenaline Games is not just Sup'AirBall, the standard of the industry for more than a decade.
We are also:
FaceFull, the reference in Paintball magazines
The Tontons, one of the 5 oldest teams still playing today (among the Ironmen, All Americans, Bushwhackers and Mayem Tigers)
The Millennium Series, the major European League
We are players- pro players, recreational players, scenario players. We play speedball and we play in the woods.
Paintball is our passion and we are involved in more than one project. We love paintball and are passionate people. This is why we are involved in making the paintball fields of tomorrow. We have invented the 7man format, among others. Our Tournament Series never went bankrupt and it does not owe money to anybody.
Craig Miller made several false and misleading claims that we would like to address:
If you want to be correct, Adrenaline Games USA is a corporation based out of Pennsylvania and therefore not a foreign competitor. But let's skip that part and go to the facts: No one was fired from Adrenaline Games USA in 2009 or in 2010, as Craig claims.
Sup'AirBall does not manufacture in the USA but does have more Americans on its payroll than Ultimate Airball®.
I do agree with him on 1 single point: "slow down and see who has done what to whom".
Craig Miller made false accusations (being the first to make tubeless bunkers among other things) and has slandered Sup'AirBall products.
He contacted several paintball leagues and tried to "persuade" them not to use Sup'AirBall products anymore.
Sup'AirBall bunkers were made exclusively in Morocco until 2007. Sup'AirBall does manufacture a few of its 80+ references in China, which brought the cost down for our customers.
We succeeded in dropping the price of what was the NXL (now Pro field from the PSP) by 25% between 2006 and 2010. Which one of your bills dropped by more than 25% in the last 4 years?
We are disgusted by comments made by Craig Miller in his interview on the Ford Report.
Sup'AirBall is the only bunker manufacturer to donate products each year to charity events, such as Lauren's Hope Foundation (www.laurenshope.org), as well as Church groups. We even received thanks from Troops in Iraq for products give away.
Today Adrenaline Games supports leagues all around the world financially and logistically. We do more than selling bunkers. If Sup'AirBall stops all that support, do you think the extra burden won't affect the price and quality of play at tournaments?
In addition, we want to re-assure our customers that 2010 will be another step forward for us in bringing you the most efficient, durable, and professional products possible, a task we started on over 18 years ago. We stand behind our product and are always here to take your calls from our beautiful new office- (724) 537-5834. We have a great outlook for 2010 and the thousands of field owners we work with. You can reach us every day at our office or you can directly call our sales representatives. Our phones are here at least 8 hours a day, 5 days a week, and sales reps frequently take calls on weekends.
We appreciate you taking the time to read our response and are confident that you will see where the evil really is." – Sup'Air