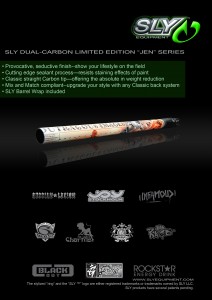 ProPaintball.com presents the SLY LE JEN barrel scheduled for release today at the USPL Huntington Beach Open:
The design staff at SLY is proud to release the first limited edition design of the acclaimed 2009 Dual-Carbon Classic series. The new JEN series is the only choice in barrel design for the most distinguishing player; featuring a provocative print of the alluring and infamous "Jen"–in addition to SLY's patented Dual-Carbon technology. As with all the Dual-Carbon Barrels, the SLY patented taper system pairs ultra lightweight 100% graphite carbon fiber with industry leading graphics and design. SLY's famed classic back adapter system comprises of mirror polished T6061 aluminum coupled with a matte exterior finish–when combined with SLY's patented tapered bore system, the Dual-Carbon series is a sure winner and can be found anywhere where competitive paintball is played.

The new LE Dual-Carbon Jen barrel can be seen at the USPL Huntington Beach event, amidst SLY's new line of Pro-Merc soft goods and protective equipment.

These limited edition barrels will only be available while supplies last. The SLY Dual Carbon JEN barrel is currently available in the North American market and in Europe through the traditional network of SLY Dealers and through SLY's dedicated online webstore.

This announcement marks another large success for SLY. SLY made its introduction to the paintball market 2-years-ago with the release of the Dual-Carbon Pro barrel. Currently SLY is the only carbon fiber barrel with a tapered bore and Dual-Carbon technology (patent pending). SLY's concepts have been pushing the paintball industry forward with innovative advancements.