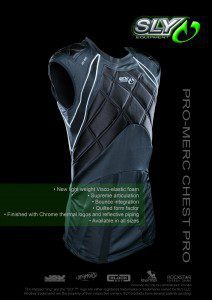 SLY has officially released the 2009 Pro-Merc™ Chest Protector featuring Bionic-stretch™ technology. Designed around a combination of 2-way and 4-way stretch Lycra®, the base of this chest guard offers supreme padding without sacrificing flexibility. Quilted ten millimeter memory foam is situated through out the garment, strategically positioned for optimal coverage and the occasional bounce. Thin accents of matte silver piping run the length of the chest and compliment the thermoplastic rubber SLY logo.
The 2009 Pro-Merc™ Chest Protector is currently available in the North American market through (www.slyequipment.com), and in Europe through (www.sly-europe.com).
This announcement marks another large success for SLY. SLY made its introduction to the paintball market 2-years-ago with the release of the Dual-Carbon Pro barrel. Currently SLY is the only carbon fiber barrel with a tapered bore and Dual-Carbon technology (patent pending). SLY's concepts have been pushing the paintball industry forward with innovative advancements.