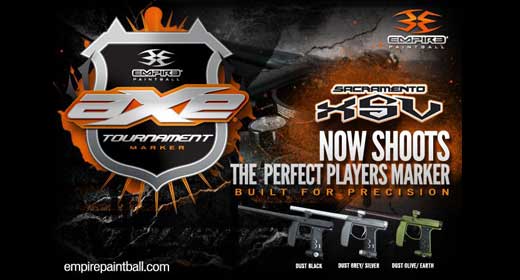 A few weeks back we received two cellphone photos of Sacramento XSV field testing the new Empire AXE paintball gun. The photos were captured by a local player/ ProPaintball community member, and featured pro player Eddie Tamao loading and playing with the marker. ProPaintball sent a few questions to XSV inquiring about the photographs and a potential gun change for the 2011 season but no response was provided. Fast forward to today– a report surfaced on BallersCafe that Empire Paintball has officially signed pro paintball team Sacramento XSV to shoot the Empire AXE for the 2011 paintball season.
Via BallersCafe;
"The team has been very impressed with the performance of the gun," said Rich Telford of Sacramento XSV. "I remember a time when a great, pro-level marker needed to be out of this world expensive! Times have changed and in the twenty-first century, a paintball gun can be both affordable and ready for competition – and Empire Axe is it."
Thomas Taylor of XSV said,
"The AXE is light, fast, accurate and compact…all the things I need in a paintball gun! For anyone who plays as aggressive and up the field as I do, the new Empire Axe is the perfect choice! I can't wait to hit the snake with my Axe in 2011!"
Read the full story at BallersCafe here: Sacramento XSV to shoot Empire AXE Marker in 2011. Interested in the AXE? Check out the Empire Paintball website for more information.