Russian Legion wins PSP Chicago – Paintball Event Results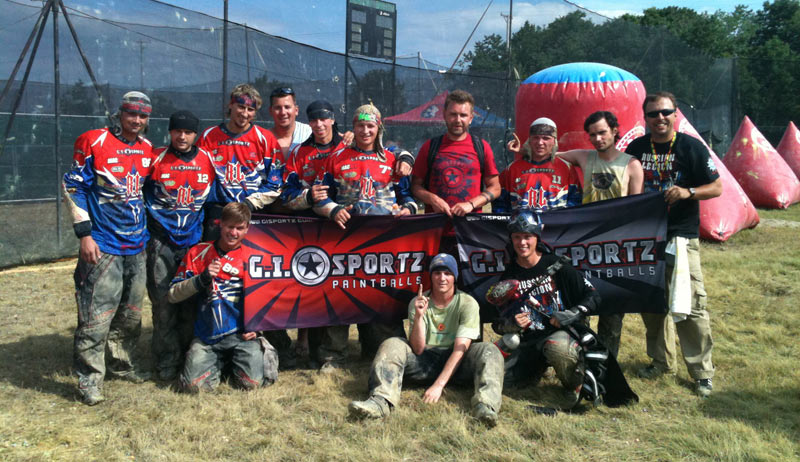 The Russian Legion battled against world paintball series leaders San Diego Dynasty for the PSP Chicago Open title. The Russians emerged the victors in an over time match that some say was the best paintball they have witnessed in the history of the sport. If you missed the free paintball webcast hosted by Matty Marshall you should be kicking yourself. The PSP webcast was an amazing production with excellent game footage and commentary that kept paintball fans on the edges of their couches all weekend long. The PSP has promised to release some of the episodes online via Youtube and other online video sharing sites in the coming weeks.
Below are a few words from the PSP's Camille Lemanski regarding the event as well as final results for all the divisions.
After severe weather did its best to take out this event, Burt Wright, Matt Fraundorf, Nick Casner, Rich Hernandez, Aaron Arroyo, Matty Morse and Brian Berg of the PSP Crew along with volunteers from team LSD and the CPX Sports Park staff led by Darrell Parrish, worked around the clock to revive the venue and save the event. This came as complete relief to the thousands of PSP players and fans including those who traveled in from as far as Sweden, Russia, Ecuador and Brazil!

Beautifully calm weather swept in after the reconstruction just in time for games to begin, allowing raw talent and strategic game plans to take center stage. With 9 different divisions to choose from, 155 teams from several nations competed against each other to better themselves and prove who really is the best in the world.

Something that was extra special for this event was the return of the live webcast! Thousands of fans from all over the world – literally – were watching pro games at www.pspevents.com all day Saturday along with Pro and some divisional final action live and for free all day Sunday!

Global enthusiasm seemed to build up Sunday as it became clear that the Professional final match would once again come down to San Diego Dynasty and Boston Red Legion of Russia. These two teams faced off against each other in the March PSP Galveston event with Dynasty winning… and the rivalry has been building up tension ever since. Boston Red Legion started out strong taking the first two points, but several close points later and San Diego Dynasty came out time and again with the lead. In what seemed like would be the final point before Dynasty were re-crowned champs, Justin Rabacoff made the move of the event by taking the flag and racing it into Dynasty's flag station with just 2 seconds left in the game… while Dynasty still had live bodies on the field!! This took the game into Sudden Death Overtime which came down to a one-on-one where Boston Red Legion's final player, who was seemingly out of paint, eliminated the final Dynasty player to win the event!

Final Score: San Diego Dynasty 5, Boston Red Legion 6

Let the Dynasty/Legion rivalry continue as we take the PSP to our next stop: PSP New Jersey, August 12 – 14, 2011 at TopGun Paintball! But first, please join us in congratulating all of the 2011 PSP Chicago Open Champions!

Final Results for the PSP Chicago Open:

Professional

Boston Red Legion
San Diego Dynasty
Edmonton Impact
Los Angeles Ironmen

Division 1

Hurricanes
New Jersey Jesters
ASSAULT
upTon 187 cRew

Division 2

Grad Moscow
Wolfpack
DOW Warberg
Distortion

Division 3 RaceTo-4

Detroit Action
Boom II
Annihilators EDGE
Rapinas

Division 4 RaceTo-4

Imperial
Central Florida Paintball
North Texas Shockwave
Momentum

Division 3 RaceTo-2

CRU LT
Seek and Destroy
Team Betrayal
L A S T C A L L

Division 4 RaceTo-2

Revo II
Syndicate
Atlanta Breakout Gold
Mac Daddy All-Stars

Pump Open RaceTo-2

Total Grief
Dallas Notorious