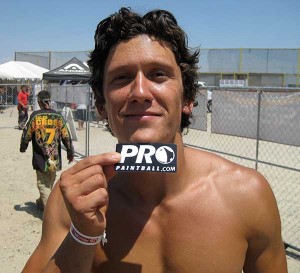 While we were wandering around the USPL West Coast Open trying to dig up the latest paintball news, we stumbled upon former Oakland BLAST and Less Than Zero player Riley Sullivan who was hanging out at the BLAST tent. Riley had stopped by to cheer on his former teammates on Oakland BLAST and watched them battle their way into the finals. Riley, a big fan of Pro Paintball dot Com, let us know that he would be rejoining the pro division. Check out the latest details after the jump..
When asked about his absence from paintball, Riley mentioned that among other things he was busy working throughout the season and couldn't wait to get back in the game. Riley broke the news that although he was not sure who with, he would be rejoining the pro ranks starting with World Cup 2009 and continuing on for the 2010 season.
Now, knowing that Riley was back was only half of it and we had to figure out who he was playing with. After inquiring, credible sources suggest that Riley Sullivan will be joining pro veterans Rich Telford, Junior Brown, and Sacramento XSV in the battle for World Cup 2009..