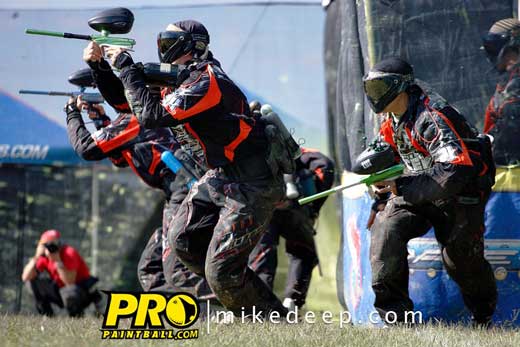 This week's player of the week is Robbie Goldsmith of Chattanooga CEP. Robbie rose through the ranks, playing both divisional and college paintball before making his debut in 2011 on the professional field. ProPaintball's JJ Roth recently sat down with Robbie to talk about rising through the ranks, his most memorable paintball experiences, 2012 goals and advice for up and coming player. Check it!

Name: Robbie Goldsmith (24 years old)
Hometown: New Lenox, IL but I reside in Nashville, TN.
Occupation: Co-owner of Minor League Paintball series, but I survive by collecting a salary from Enterprise Holdings.
Previous Teams: Dark Image, 93 Bulls, and University of Tennessee Volunteers
Current Team: Chattanooga CEP
Sponsors: DXS, DYE, Insane Paintball, and Minor League Paintball give Chattanooga CEP amazing support!
Position: Back/Insert #14
Favorite Players On the other side of the field today, I really enjoy playing against and learning from Drew Templeton, Damian Ryan, Zach Wake, Chad Busiere, Dave Bains, Archie, and Mouse…..I feel all those players are bringing the sport to another level.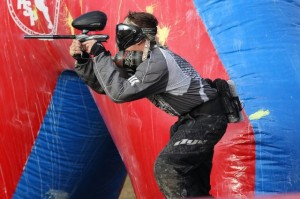 JJ @ ProPB: When you aren't playing paintball, what are you most
likely doing?
Robbie @ CEP: I played d3 ACHA hockey at the University of Tennessee during college, so you can usually find me on the ice during the off season, and I really enjoy fishing and relaxing with friends and family at my lake house in Michigan. Besides that, you can usually find me at a local watering hole with the southern girls downtown Nashville….
JJ @ ProPB: When did you first start playing paintball?
Robbie @ CEP: Freshman year of high school some friends asked me to play in the woods, I quickly became addicted. My best friend owned 2 acres of woods so we built a field and played every weekend.
JJ @ ProPB: When did you first start playing tournament paintball?
Robbie @ CEP: 2004 Chicago PSP at badlandz was my first PSP event. Xfactor wrecked us in our first event by 13 points (old xball) or something….crazy that I would meet back up with them 7 years later….
JJ @ ProPB: Who do you look up to in the sport?
Robbie @ CEP: I was a product of Badlandz, and Country Club Indoor paintball, so the guys who taught and beat me up were all the Old Voltage and Farside guys, and Damian Ryan. We were always the punk kids who showed up to try to beat those guys, which never happened. MW
paintball is all about heart, so im glad I was never handed anything in the sport, and these guys beat me into the player I am today…..
JJ @ ProPB: What does playing paintball mean to you?
Robbie @ CEP: It's what I love to do. I skipped my high school prom 2 years straight to go to Tampa NPPL, and I wouldn't want it any other way. In college I missed every hockey tournament but the National Championships to travel with CEP. When I moved to TN, all the CEP guys were d5 players who had no idea what they were doing, and now we have went from that point to 8 best friends playing PRO. We are 100% home grown, and I wouldn't want it any other way. Some people think that will be our downfall, but where there is a will there is a way……
JJ @ ProPB: What is your most memorable paintball experience?
Robbie @ CEP: The entire 2008 season is when Cross Eyed Paintball hit the map. We played d2, took second to last at Phoenix, 8th at MAO, then came back in Chicago down 5-0 to beat Raiden 6-5 and win the event, then we went undefeated at NEO taking back to back events, decided to jump to d1 at World Cup, making Sunday and missing top 4 by 8 seconds. That entire season was where Chattanooga CEP finds its roots
and drive.
JJ @ ProPB: What are your goals for next season?
Robbie @ CEP: We FINALLY wont have to be the new kids on the block, so we are prepared to take what we learned in our first year, and come out in 2012 as a threat to the good ole boy Sunday club. We are the first to admit, we have gotten worked this year, but CEP doesn't quit, we will continue earning peoples respect and work towards our ultimate goal, A PSP PRO championship.
JJ @ ProPB: Do you have any advice for up and comers looking to play pro?
Robbie @ CEP: There is a right way and a wrong way to do things in every aspect of life. If you decide to make the right decisions and work hard enough, good things will happen. Paintball is a marathon not a sprint. OH….and NEVER choose paintball over college….lets get real here….theres ways to do both
JJ @ ProPB: What are you currently listening to on your ipod/computer/car?
Robbie @ CEP: I got a wide variety…….new Jay Z/Kanye, Carter 4, Mumford and Sons, Skrillex, Foster the People, Adele is the real deal……and everyone knows Im all about Deanna Carter.
JJ @ ProPB: Any shout-out's you wanna make?
Robbie @ CEP: All my CEP family, guaranteed I would never be where I am in this sport without the 15 people involved with CEP down in Chattanooga, NCPA all-stars for letting me coach and keeping events fun, and of course all the SMACKBOX haters…..no publicity
is bad publicity…