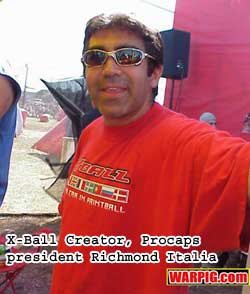 Rumor on the street has it that Richmond Italia is back in the mix and is spearheading a major effort to revolutionize paintball. Credible sources have indicated that Richmond is preparing to launch "Paintball 2.0" and that BIG things are in the pipeline.
Richmond Italia, in addition to being the former CEO and founding president of ProCaps, is the creator of the X-ball format. He is known by many in the industry as one of the more successful paintball entrepreneurs and based on his history in paintball, we can expect that major announcements are forth coming.
Be sure to stay posted up at ProPaintball.com and remember, you heard it here first!