Continuing on our with our ProPaintball.com regional team spotlight series, we had the opportunity to sit down with BLAST Camp. Read on as we talk the 2021 season progress and discover just what makes this team tick.
If you are unfamiliar with BLAST, you've probably been living under a rock. While you were there, they have been smashing teams in the Semi-Pro division and gaining popularity on Youtube.
Quick recap:
Currently #6 is the season rankings for Semi Pro
Finished 2nd at the NXL Philly event.
Have won in every division before moving up.
On average the youngest team in the semi pro division.
Only team in the top 6 (maybe further) without an x pro player on the roster.
Have a roster of only 10 players. There is no farm team to draw from.
Their roster is packed with exciting talent and they are a true pleasure to watch play the game.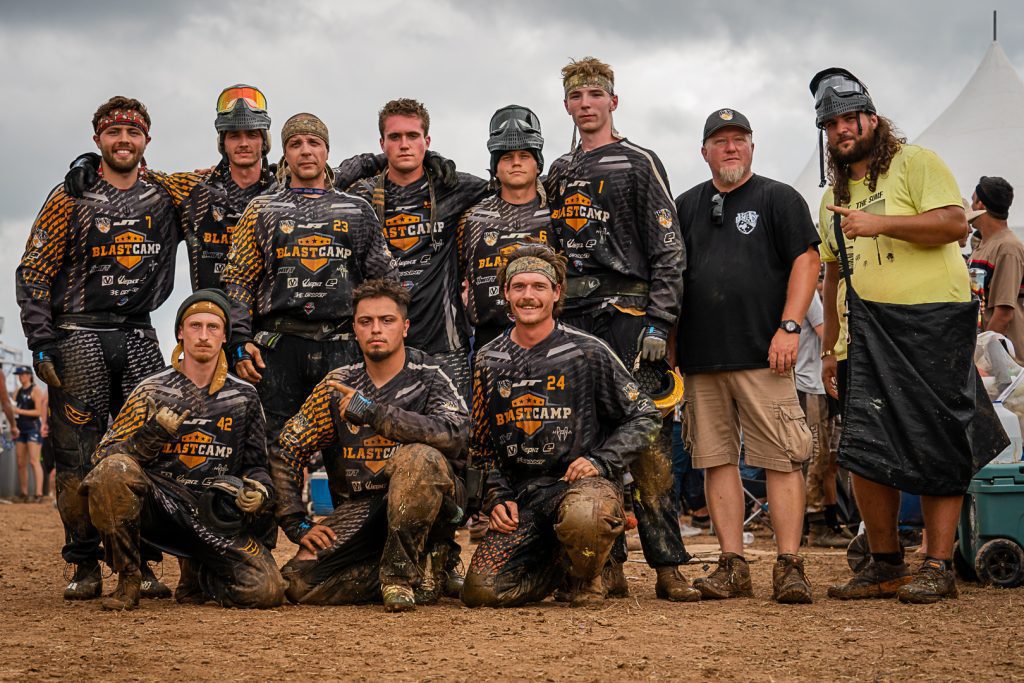 ProPB: How did you all come together as a team, and what is your home field?
Blastcamp: Blastcamp Paintball & Airsoft is our home field and that's where it all started for us. Jackson Frey (#12) and his family have owned the park since 2009. He and Nathan Aboul-Hosn (#53) started the team 7 years ago playing MWXL events out at Badlandz, which at the time WAS Chicagoland Tournament Paintball.
Once Aftershock started their decline we acquired a group of younger players
from the shock programs, mixed them with our guys – and Blastcamp Revolution was born. All of our guys have played together now for many years and all reside in and around the Chicagoland area.
ProPB: How do you attract talent to add to the team and what are the current goals for the squad?
Blastcamp: We haven't had to add many pieces but when we do we prefer to have local guys that can be here consistently on the weekends and guys that realize how special playing for Blastcamp is.
#1 is to make Sunday #2 to win at least 1 event in the 2021 season #3 To win the 2021 Semi-Pro season Championship. These are our goals every year.
ProPB: Are there any players you would like to spotlight in this discussion?
BLASTCAMP: No discussion about Blastcamp is full until we talk about Jackson Frey. He's our leader and has stepped up in every possible way. On the field he was the #1 ranked player at the BKI combine in 2020, he's a 2 time Team USA member and is currently the Team Captain of Team USA, He'll be representing the USA in Chantilly France later this summer, he maintains the fields at Blastcamp, runs Wednesday night drill nights, has an exceptional Game IQ and a booming voice. Off field he has worked tirelessly to develop a VLOG on youtube that has grown to over 2000 subscribers and continues to flourish. He has always had an innate ability to raise his game and those around him to meet the moment and we couldn't be prouder of all he's accomplished so far. Did we mention he's only 19?
ProPB: How is the climate of competition in your local scene?
BLASTCAMP: The Chicago area is ripe with talent and growing. We see it every weekend at Blastcamp where there are ex-players returning to the game, or fresh, new guys making their way to tournament ball from Open play. Lots of good organizations are also coming together with solid leadership. Organizations like Midwest Army, Free parking, and many others are building for the future.
ProPB: Any advice to other divisional teams trying to climb the ranks?
BLASTCAMP: Yes, Pick a group of guys that are dedicated and stick with them. The longer a team stays together the better they will become. Don't always be searching for someone with a slightly better snap shot, or that runs a little faster. A teams ability to work through problems on and off the field is key to success and the longer the guys know each other the better they are at doing that. Also…. Find a coach early and take really good care of him!!!
Sponsor Shoutout:
Hydra GearPlanet EclipseBlastcamp Paintball & AirsoftVirtueJT Paintball