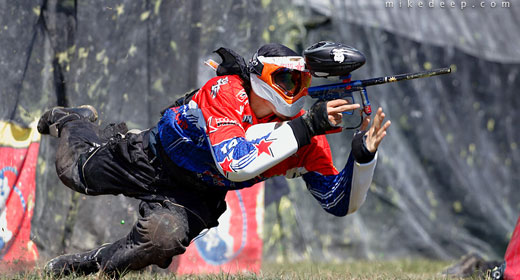 We are proud to present Saturday's PSP World Cup PRO Paintball Results and News from the paintball field. In case you missed it, check out the paintball photos from Thursday, and Fridays PRO Scores and Paintball News and photos.
Saturday Rumor Round Up:
A major disconnect between top pro paintball teams and their sponsors seems to be brewing. We've heard reports that Eclipse, Empire, GI Sportz, Sly and Draxxus are making moves in one form or another.
Russian Legion is rumored to be signing with SLY Equipment for Goggles and other gear and GI Sports for paintballs. This photograph of Russian Legion from Friday seems to all but confirm the SLY rumor.
Chicago Aftershock and Russian Legion are shooting GI Sportz 68 caliber paintballs at World Cup and word is they will continue next year.
08:00am – Entourage (5) vs. X-Factor (7)
X-Factor wins their first match at Cup and their record is now 1-2. Entourage has lost 3 consecutive matches and their record is 0-3. Aside from the penalties that the team received, 2 majors and 1 minor, Entourage had a strong match.
08:45am – Infamous (1) vs. Aftershock (7)
Chicago Aftershock has been shooting the new paintballs from GI Sportz and they seem to be working out very well. Infamous received 3 majors and 4 minors throughout the match.
09:30am – Impact (6) vs. X-Factor (7)
Impact's Ryan Moorehead cleaned house on the dorrito side but had a dirty hang and started the game off on the wrong foot. Impact received 4 majors while X Factor received 1 major and 1 minor. When X Factor scored the 7th and final point there was 19 seconds in regulation play on the clock. X-Factor is now 2 wins, 2 losses. Impact is 2 wins, 1 loss.
10:15am – Aftershock (7) vs. Entourage (1)
11:00am – Impact (5) vs. Infamous (6)
This was a clean match, no penalties on either team and the clock expired. Impact is now 2 wins, 2 losses. Infamous is 2 and 1.
12:15pm –Russian Legion (7) vs. Naughty Dogs (1)
01:00pm – Ironmen (7) vs. Vicious (6)
01:45pm – Damage (1) vs. Dynasty (7)
Damage received three majors throughout the match.
02:30pm – Ironmen (7) vs. N.Dogs (1)
Naughty dogs received one majors and two minors.
03:15pm – Dynasty (3) vs. Vicious (7)
Dynasty received one minor.
04:00pm – Damage (2) vs. Legion (7)
Looks like Spence from Damaged received a suspension due to unsportsmanlike conduct.
Sunday Quarter Final Schedule:
Dynasty v Damage at 8
Infamous v XFactor at 8:50
Russian Legion and Aftershock receive buys into the semi finals.
W/L Prelim Event Standings
Group 1
(2-2) Impact
(3-1) Infamous
(3-1) Aftershock
(0-4) Entourage
(2-2) X-Factor
Group 2
(2-2) Damage
(4-0) Legion
(2-2) Dynasty
(2-2) Ironmen
(2-2) Vicious
(0-4) N.Dogs
Special thanks to Cade Coleman and Rob S.